Telehealth helps Mt Barker double-stroke patient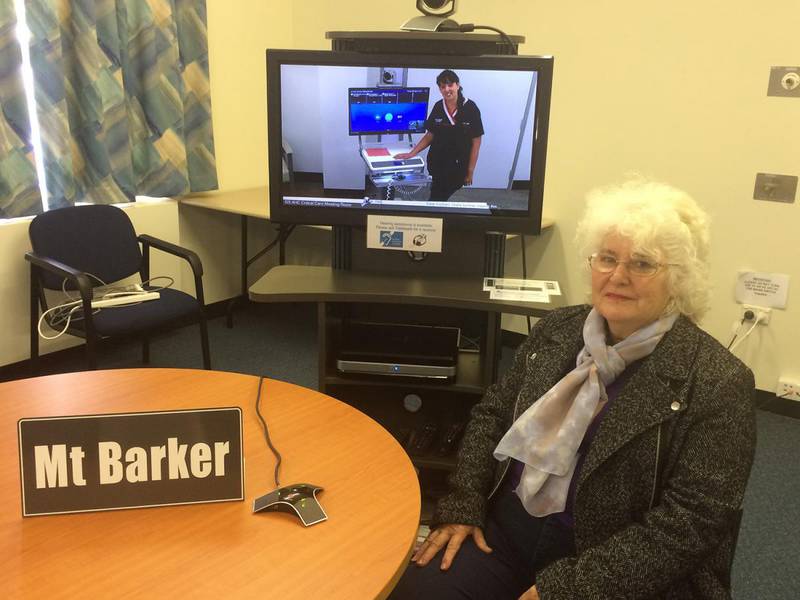 Anne Bayldon survived two strokes because she was able to receive treatment quickly.
Mt Barker woman Anne Bayldon has survived two rare strokes thanks, in part, to telehealth.
A new telecart - located at Albany Health Campus - enabled local clinicians to work side by side with a stroke specialist based at Fiona Stanley Hospital ensuring Ms Bayldon could receive expert treatment faster.
According to stroke specialist, Dr Tapuwa Musuka, telehealth technology proved lifesaving.
"Ms Bayldon presented to Albany Health Campus with a suspected stroke," Dr Musuka said.
"Albany doctors were able to use the new videoconferencing telecart to let me assess the patient and determine the appropriate course of treatment.
"Once I'd dialled in, it was obvious that Ms Bayldon had developed left-sided weakness indicating a second stroke was starting," he added.
Given Ms Bayldon's acute condition, staff at Albany Health Campus arranged a Royal Flying Doctor Service flight to take Mrs Bayldon to Perth for emergency surgery – all within a timeframe of four to six hours.
After a short stay in Perth where she underwent full assessment for any stroke impacts, Ms Bayldon was allowed to return directly from Perth to her home in Mt Barker within eight days and without needing any rehabilitation.
Ms Bayldon said she could see great benefits in having telehealth equipment in country hospitals.
"It must be less stressful for local doctors to have the help they need from stroke experts and know that they are not alone in that patient's outcome," Ms Bayldon said.
The telecart and stroke care pathways used at Albany Health Campus are part of the WA Country Health Service's landmark Acute TeleStroke Project.
The project, which began in 2016, established a process which uses partnerships and communication tools like videoconferencing to speed up access for country patients to expert stroke specialists in Perth.
September 3–9 marks National Stroke Week 2018 and WA Country Health Service (WACHS) is joining the Stroke Foundation to highlight the work taking place across country WA to reduce the impacts of stroke.
Fact File
An estimated 700 people in rural WA suffer from a new stroke every year, with regional Australians 19 per cent more likely to suffer a stroke than those living in metropolitan areas.
WACHS's landmark WA TeleStroke Project includes the Acute TeleStroke Project which uses videoconferencing and phone calls to speed up access for country patients to expert advice and care from stroke specialists in Perth.
Telehealth saved WA country patients from travelling 27.3 million kilometres in 2017 – that's about 12,500 return trips across the Nullarbor, or 35 trips to the moon and back.