Artists canvassed for special tour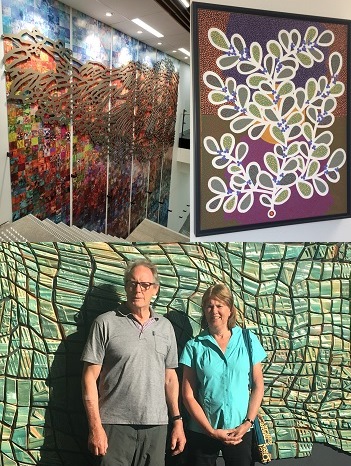 Top left: Leanne Bray's A Differing Perspective, Top right: Bush Medicine by Cliff Samson, Bottom: Ian Dowling's Metamorphic Life
A number of artists were given a special tour of the new campus recently to see their artwork in situ.
The interior and exterior walls have been transformed thanks to 54 specially purchased pieces which were carefully selected and positioned to inspire better health and wellbeing for patients and visitors to the hospital.
Some of the art has been used on internal glass windows and doors rather than just standard frosting adding impact and privacy.
All artists have close links to the region and have incorporated influences from the landscape textures and colours into their art.
Cliff Samson's Bush Medicine is also featured on the wayfinding signage throughout the facility.
Our own pictures can't do them justice but we're sure you'll be just as captivated as we were when you see the pieces firsthand!