Artwork tells local story of fusion and renewal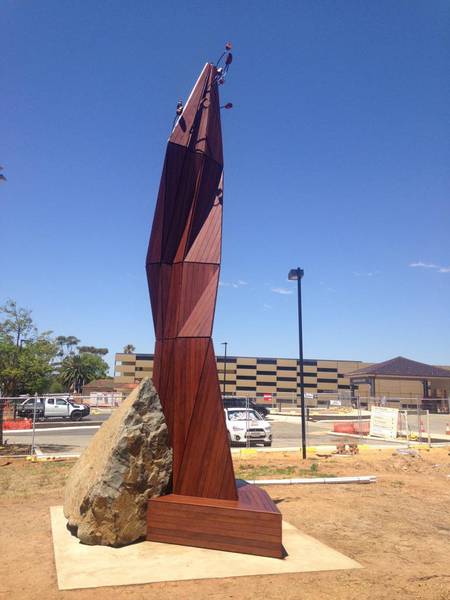 The Narrogin Health Service has a new feature artwork at the main entrance thanks to the State Government's Percent for Art Scheme
The two-year redevelopment of the Narrogin Health Service has reached a new stage, with the installation of the feature artwork at the main entry of the hospital.
WA Country Health Service Wheatbelt (WACHS) Regional Director Sean Conlan said the artwork was a tribute to ancient and recent history of the local environment, and had been created in consultation with local Aboriginal elders and using local craftsmen.
"Artist Lorenna Grant has created a unique artwork that tells the story of the local eco-system and environment," he said.
"Artwork is an important aspect of healthcare and it is wonderful that the State Government's Percent for Art Scheme allocates specific funds for this in the development of public buildings.
"Research released in 2016 by the WA Arts and Health Consortium Reference Group showed that art in clinical settings improves clinical outcomes for patients.
"Artwork in a healthcare setting is more than just decorative.
"It can give people a pause from the trauma or stress of their current situation and can improve their experience."
Artist Lorenna Grant said the tall sculptural piece featured local granite and wandoo timber that was once the floorboards in the Narrogin Baptist Church.
She specialises in creating public artwork that has a local connection, and said that the use of local craftsmen, and cooperation with local Aboriginal elders, were key to the creation of this piece.
She joined forces with Narrogin woodworker Stan Samulkiewicz to create the mainly wooden structure.
Ms Grant, a passionate environmentalist, said the artwork told a story that was particular to the Narrogin area. It represented the ancient fusion between local quartz-fuelled granite and the plant kunzea pulchella – which caused the rock formation to split.
"The triangular timber panels are my interpretation of the triangular fissures created by the plants in the rock face," she said.
"At the top of the work, between the panels, small flower buds reach up to the light, representing the continuation of the renewal process."
Lorenna and Stan are also set to deliver a range of external feature seating options throughout the health service as part of the percentage for art scheme.
Regional Director Sean Conlan said the health service redevelopment was due for completion early 2019, and would deliver a new outpatient building, a new inpatient ward with two new birthing rooms with ensuites, a theatre, procedure room, sterilising department and new dental and chemotherapy services.