Auxiliary camera donation focuses on Northam Hospital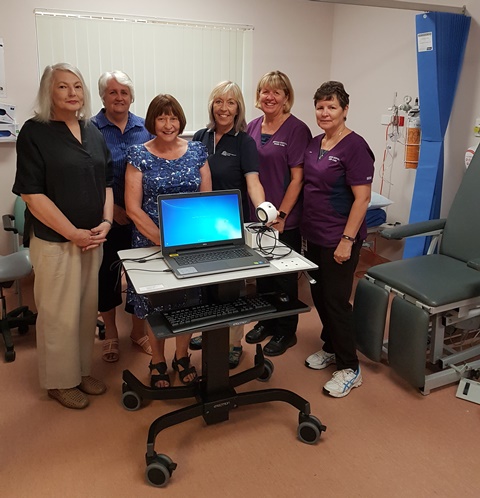 From left to right: Anna Kujundzic, Lorraine Tucker, Jeanne Lawler, Linda Richardson-Varley (Senior Podiatrist), Vicki O'Neill (Wound care Nurse) and Lyn Butler (Wound care Nurse).
The tireless efforts of the Northam Hospital Ladies Auxiliary have been brought into focus with the donation of a state-of-the-art wound camera.
The Silhouette Star wound camera with accompanying trolley and laptop is valued at almost $10,000 and will be used to treat patients across the Wheatbelt region attending the wound clinic with complex and chronic wounds.
Wound clinic staff are extremely excited to receive the donation and are currently undergoing training with the equipment. The new camera will also be available for use in the podiatry department, ED and patient ward.
The camera's lasers and lights are able to measure wound depth, width and length reducing the risk of contamination and produces vital information to assess the status of wound healing. This method is more accurate especially when measuring irregular shaped wounds.
Auxiliary members volunteer their time working in the hospital kiosk with profits channeled into providing equipment for Northam Hospital.
The Auxiliary would like to thank hospital staff, patients and visitors for their continued support of the kiosk.
WACHS media contact: Clare Paterson, 9223 8754