Baby Ava still bouncing thanks to telehealth doctor, local nurses and RFDS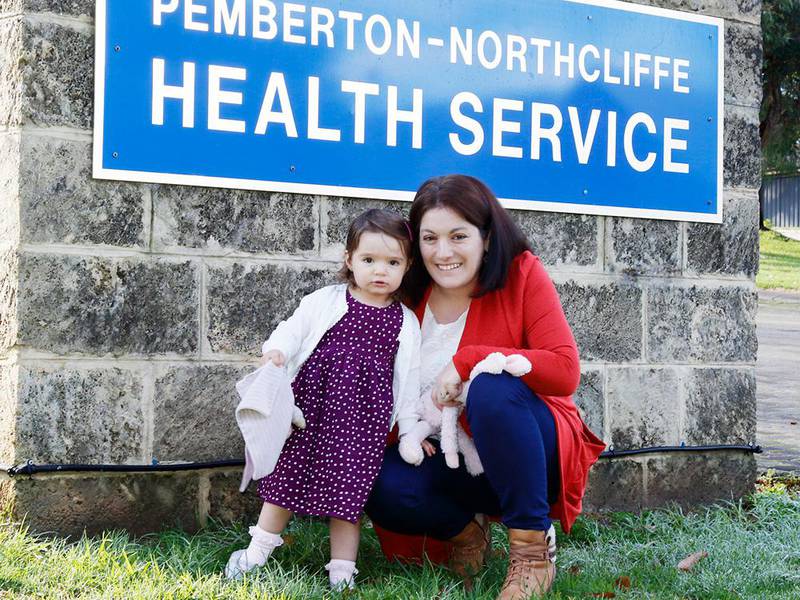 Ava Fuge and mum Marion in Pemberton Health Service's emergency room with two of the clinicians who helped save her, nurse Jess Byers and Emergency Telehealth Service doctor Mlungisi Mahlangu (on screen). Credit: Robert Baker, Pemberton.
You wouldn't know it to look at bubbly bub Ava Fuge now, but two months ago her life hung in the balance – probably only saved through a combination of care from local nurses, "the telly doctor" and Royal Flying Doctor Service.
Suffering from a seizure one evening in April, her parents raced the 17-month-old to their local hospital at Pemberton.
Despite no doctor being rostered on at that hour, the nurses in charge were able to dial up the Emergency Telehealth Service (ETS) based 300km kilometres away in Perth and call on the back-up of emergency specialist doctor Mlungisi "Lungi" Mahlangu.
Dr Mahlangu used the ETS camera in the hospital's ED suite to zoom in on little Ava to confirm the nurses' assessment, and then get extra details by speaking to them over the videoconference.
He then guided the nurses through a course of treatment to stabilise young Ava by inserting an intra-osseous drip into bone in one of Ava's legs – a difficult task in such a small child.
While the nurses worked to insert the drip, Dr Mahlangu was able to call up the RFDS to arrange an emergency transfer by plane.
The RFDS flight arrived within a couple of hours with Dr Hakan Yaman – who also works at the ETS – who inserted a tube in Ava's throat to help her breathe before departing for Princess Margaret Hospital where she spent almost a week receiving further treatment and recuperating.
Two months later little Ava has bounced back and her mum is convinced the support the ETS was able to give local nursing staff made the difference between life and death for her daughter.
"If we didn't have this service, I think I might have lost my baby," she said.
"The doctor talked the nurses through the procedures as calm as could be.
"He was able to direct them exactly what to do over the video.
"Without the telly doctor she would have been in seizure for more than 20 minutes."
Dr Mahlangu agreed Ava's outcome could have been much different.
"The concern in such a case is that because there is a period where there is a loss of oxygen to the brain that there was a chance she could have had significant morbidity – or reduced function," he said.
"If she was already crawling, she might have stopped."
Healthcare delivered closer to home is under the spotlight this week as part of Telehealth Awareness Week, 25–29 June.
The week has been organised by the WA Country Health Service and its service partners to highlight that healthcare delivered by telehealth is now widely available to country patients.
The Emergency Telehealth Service (ETS) supports about 400 consultations a week at its 79 rural and remote nursing posts and hospitals across WA.
Its 60 emergency doctors provide support to rural and remote doctors and nurses 24 hours a day, seven days a week.
In addition to the ETS, people in most rural and remote towns across WA can access healthcare appointments using telehealth for more than 30 specialities including cancer services, surgical follow-up, respiratory medicine, blood-related disorders, orthopaedics as well as education for chronic conditions like diabetes and asthma.
Telehealth Awareness Week includes the launch of a 1300 number for telehealth inquiries, a statewide regional advertising and social media campaign, new information materials for patients and healthcare professionals, and displays in hospitals and health centres across the State.
People can enquire about having an appointment by telehealth by asking their health professional or calling 1300 367 166.
More information about telehealth is available at www.healthywa.wa.gov.au/telehealth.
Do you have a good telehealth story? Share it on your favourite social media channel with the hashtag #telehealthwa or on Patient Opinion
Fact File
More than 17,000 Emergency Telehealth Service consultations in total were conducted in 2017 across the State.
More than 65,000 patient consultations have been conducted via the ETS since its introduction in 2012.
Around 75 per cent of the patients accessing ETS are discharged home or access care locally without needing to be transferred to another facility for further treatment.

The ETS's most distant site is Wyndham at 3,200km from Perth, the same distance as London to Athens.