Bringing cancer care closer to home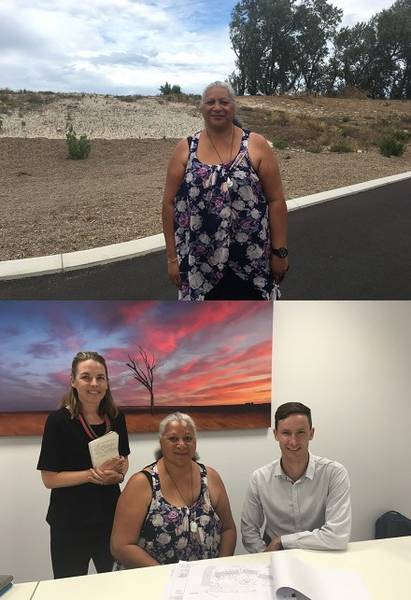 Caroline Rowcroft in front of the Cancer Hostel building
"A cancer diagnosis can be a traumatic experience."
Cancer survivor Caroline Rowcroft knows only too well the implications such a diagnosis can put on your everyday life.
"There are often many treatment options to be considered and being with our loved ones and support networks at such a time is crucial," said Caroline.
The Midwest mum-of-four has been the 'community voice' during the design phase of the new regional cancer hostel which, when completed, will be ideally situated close to the Midwest Cancer Centre.
"As a cancer survivor I felt I could positively contribute to this project. Having used the hostel facilities in Perth during my treatment, I wanted to replicate that 'home away from home' feeling here."
The new Midwest Cancer Hostel will include seven double rooms providing accommodation for cancer patients and their carers from outlying remote communities, to enable access to cancer treatment and/or specialist cancer services closer to home.
Caroline also said having a welcoming, non-clinical, safe, secure and culturally appropriate facility right next to the cancer centre would have a positive effect on patients by removing some of the stress associated with travelling to Perth for appointments.
"Here you will just have to walk out the door and up the path to your appointment," she said.
"No stress of finding parking or fighting traffic. These units will also allow you to have privacy and independence. One of the main things I stressed about while having my treatment in Perth was who was going to look after my kids while my husband is at work.
"With this new facility, interconnected doors open up to allow family members to stay which is especially helpful during the school holidays.
"This has been a great initiative and I am ecstatic that this hostel is being built. I hope the patients who end up using this facility find comfort in the design and that the location makes attending appointments so much easier for them," said Caroline.
Geraldton-based Crothers Construction Pty Ltd won the tender for construction of the Midwest Cancer Hostel which is on track for completion in 2018.
The $1.38 million Midwest Cancer Hostel is funded through the Commonwealth Health and Hospitals Fund (HHF).
WACHS Media contact: Fran Lyons, 6145 4166