Celebrating NAIDOC Week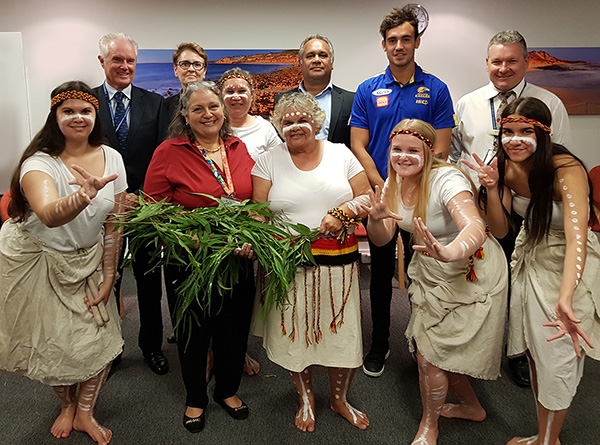 Above: Dancers from Middar Yorga Dance Troupe with Milly Penny, Barry McGuire, West Coast Eagles player Brendon Ah Chee, Board members Michael Hardy and Mary Ann Stephens, and Chief Executive Jeff Moffet.
WACHS staff once again turned out in force to celebrate NAIDOC Week with a huge variety of events held across regional WA and in Central Office.
The theme for NAIDOC Week 2018 was Because of her, we can! Many teams chose to honour the theme by highlighting the significant roles played by women in their local Aboriginal culture and community.
Here's a quick rundown of some of this year's events:
Broome: WACHS Kimberley staff, clients and families joined the community on a Reconciliation Walk in late June. Celebrations during NAIDOC Week included a smoking ceremony at Broome Health Campus.
Bunbury Hospital held a morning tea for staff and were treated to a great performance on the didgeridoo by young Aboriginal musician Bruce Thorne.
Central Office: Staff were privileged to watch dancers from Middar Yorga Dance Troupe and hear stories from Milly Penny, Barry McGuire and West Coast Eagles player Brendon Ah Chee, honouring the strength of the Aboriginal women in their lives.
WACHS Board member Michael Hardy and Chief Executive Jeff Moffet spoke about the unique role that we play in Aboriginal health in Western Australia.
Derby Health Service organised an impressive display of canvas photo prints of Derby community women. Attendees were invited to take their own picture using a NAIDOC Week themed frame and display their photos on a message board.
Geraldton Health Campus: Midwest Regional Aboriginal Health Consultant Rani Randall and other staff held a held a morning tea. Proud Wilunyu Woman and local community member Donna Ronan performed the Welcome to Country. Ms Ronan's son, LeRoy, played the didgeridoo.
Goldfields Population Health staff held a NAIDOC Week lunch featuring damper and kangaroo on the menu.
Great Southern Aboriginal Health Service premiered their short film project, Drug Aware Culture 'Because of her, we can'. A partnership with the City of Albany and Albany Youth Support Association (AYSA), the film featured local residents, including some of our staff, talking about the strong women in their lives. The interviews were interspersed with artworks created by local Aboriginal students at AYSA's Open Access studios. The 20-minute film was projected onto the wall of the town library on a perfect, cloudless evening.
Albany Health Campus: Staff and patients were given a taste of kangaroo meatballs, salad and damper again in 2018, following a successful event in 2017. The film project was available for staff to watch in the training room.
South West Mental Health: Acute Psychiatric Unit patients and staff took part in some creative expression by painting their handprints on the external wall. Organised by Aboriginal Mental Health Coordinator Glenda Humphries, the activity gave them the opportunity to enjoy the winter sunshine.
Also in Bunbury, the Aboriginal community mental health team was invited to MC the community flag-raising and awards presentation.
NAIDOC Week is held across Australia in July every year. Find out more here.