Cunderdin Health Centre reaches lock-up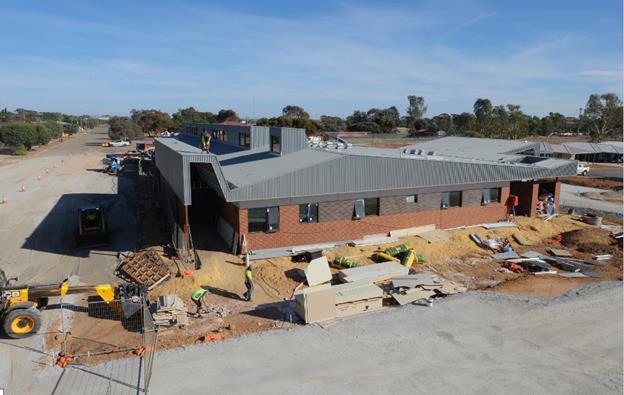 Cunderdin residents will soon be experiencing improved health care facilities with construction of the new Cunderdin Health Centre reaching lock-up stage.
WA Country Health Service Wheatbelt Regional Director, Sean Conlan, said the build has progressed smoothly since Firm Constructions took possession of the site in October 2017.
"The building is really taking shape now," Mr Conlan said.
"The brickwork and roof is complete, internal walls and ceilings are being installed, and cabinetry is being prepared for installation."
The Cunderdin Health Centre will replace the old Cunderdin Hospital and will focus on providing more primary health initiatives that keep people well, in the community and out of hospital.
"The innovative health centre model will focus on promoting good health, early detection of disease and managing chronic disease," Sean said.
"The health centre will continue to offer 24/7 emergency care from a modern emergency department with access to the Emergency Telehealth Service (ETS).
"The new centre will include Telehealth videoconferencing facilities, allowing patients to speak to specialists without leaving town."
The health centre will feature multipurpose consultation and treatment rooms, and a group therapy room. A fully equipped commercial kitchen in the centre will provide meals on wheels. The local general practitioners will also operate from the building.
The Cunderdin Health Centre is conveniently located next to new age-appropriate housing which is approaching completion. The housing is owned and will be run by the Shire of Cunderdin.
The WA Country Health Service's $300 million capital works program includes more than $33 million to rebuild health facilities in Cunderdin, Pingelly and Mullewa, and to redevelop Dongara Health Service, providing four fit-for-purpose health centres.