Diabetes telehealth helps mum stay healthy in town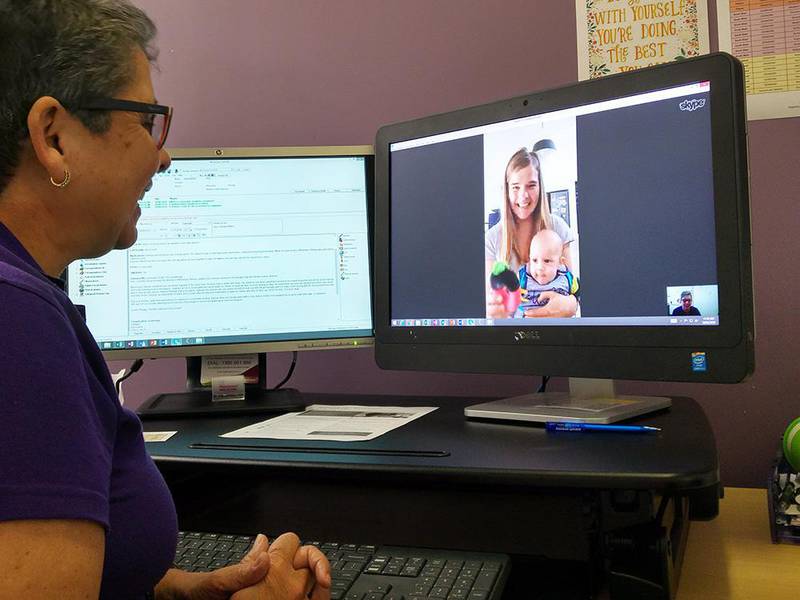 Cowaramup mum Claire Hubbard (onscreen) used telehealth technology on her home computer to speak to Diabetes WA educator June Lee, to learn how to control her gestational diabetes while she was pregnant with baby Coby.
Cowaramup mum Claire Hubbard says that telehealth saved her a lot of stress during her recent pregnancy.
Claire considered herself quite healthy and had not thought too much about what she ate, until she was diagnosed with gestational diabetes.
She was able to cope with her new way of life through weekly telehealth sessions that she held with a diabetes educator in Perth at Diabetes WA (DWA), using videoconferencing on her home computer.
The week has been organised by the WA Country Health Service and its service partners to highlight that healthcare appointments delivered by telehealth are now widely available to country patients, without the stress and cost of travel.
This Diabetes Telehealth service is delivered by Diabetes WA in partnership with WA Country Health Service and WA Primary Health Alliance.
Instead of traveling to see a specialist, Claire was able to record her daily blood glucose levels on a chart and, using her mobile phone, sent a photo of the chart to her DWA educator each week so she could track Claire's diabetes.
Claire said the advice from the educator, June Lee, was essential.
"I had to cut sweet food and had to learn how to swap high GI carbohydrates like Arborio rice, to low GI food, such as basmati rice," she said.
"Being able to speak to June every week was a massive confidence boost," she said.
"I could call her any time and ask anything, and she would put my mind at ease.
June said that Claire's gestational diabetes was so well managed she was able to give birth at her local regional hospital rather than having to come to Perth.
Without telehealth, Claire would not have had access to regular diabetes support and information.
People in most rural and remote towns across WA can access healthcare appointments using telehealth for more than 30 specialities including cancer services, surgical follow-up, respiratory medicine, blood-related disorders, orthopaedics as well as education for chronic conditions like diabetes and asthma.
More than 18,000 country outpatient appointments were conducted via the WA telehealth network in 2017.
Telehealth Awareness Week includes the launch of a 1300 number for telehealth inquiries, a statewide regional advertising and social media campaign, new information materials for patients and healthcare professionals, and displays in hospitals and health centres across the State.
People can enquire about having an appointment by telehealth by asking their health professional or calling 1300 367 166.
More information about telehealth is available at www.healthywa.wa.gov.au/telehealth.
Do you have a good telehealth story? Share it on your favourite social media channel with the hashtag #telehealthwa or on Patient Opinion
Fact File
Telehealth saved WA country patients from travelling 27.3 million kilometres in 2017 – that's about 12,500 return trips across the Nullarbor, or 35 trips to the moon and back.
About 350 outpatient appointments are delivered every week by telehealth at more than 150 telehealth-enabled sites across WA.
In 2017, there were more than 18,000 outpatient consultations by telehealth across country WA, a one-third increase on 2016.
More than 30 outpatient specialties delivered via telehealth are now available closer to home for country people. The top five in 2017 were plastic surgery, respiratory medicine, haematology, orthopaedics and gastroenterology.
Health services delivered by telehealth include emergency care, cancer treatment, palliative care, mental health, stroke emergency treatment and rehabilitation, surgical follow-up and education for chronic conditions such as diabetes and asthma.
Media enquiries: WACHS Communications - wachs.comms@health.wa.gov.au