Dongara Health Centre redevelopment moves forward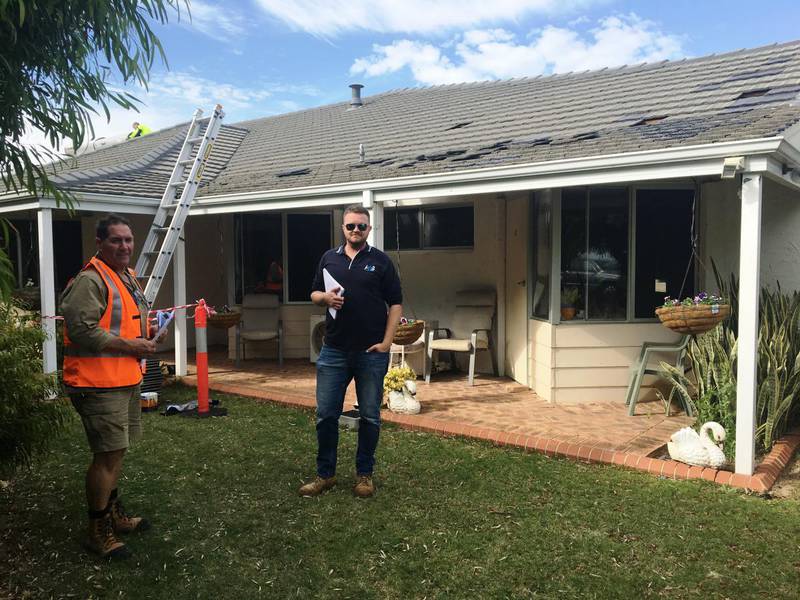 Tony Orlando, A/Maintenance Manager WACHS Midwest (left), & Steve Dancy, Maintenance Manager, AWB Building Co.
Extensive consultation has taken place with key internal stakeholders from the Dongara Health Centre and the wider Midwest region, as plans for the redevelopment of the health centre are formalised.
Midwest Regional Director, Jeffrey Calver, said the project had reached functional brief stage.
"A functional brief typically outlines design requirements including an itemised list of the function, number and size of rooms required," Mr Calver said.
"It is a document provided to an architect to give an over-arching guide to commencing the drawing process."
The user group, who were consulted as part of developing the functional brief, included both clinical and operational staff such as nurses, maintenance staff and management.
"All staff that will be impacted by the redevelopment were invited to provide their input during the consultation period, providing valuable feedback," Mr Calver said.
A project user group consisting of representatives from the community and staff from the health centre has also been meeting regularly to discuss the plans for the Dongara Health Service since March 2017.
The Dongara Health Centre redesign will upgrade existing facilities and allow a more efficient and improved connection between all clinical departments and administration.
The centre will be built to contemporary standards and include a state-of-the-art emergency department and access to the emergency telehealth service, multipurpose consultation rooms, multifunctional treatment room and group therapy rooms.
The redevelopment will also see residential aged-care beds doubled from six to 12 beds. Additional ensuites, support and communal areas will also be provided for the aged care facility within the health centre.
As a precursor to the redevelopment the AWB Building Company recently undertook extensive roof repairs on the Dongara Health Centre.
"Approximately 650 roof tiles were replaced to eliminate any chance of roof leaks over winter," Mr Calver said.
The Mullewa and Dongara Health Centre redevelopments are two of four projects aimed at reforming health care delivery through innovative health centre design, as part of the $300 million capital works program funded by Royalties for Regions and undertaken by the WA Country Health Service (WACHS).
More than $33 million will be spent building new health facilities in Cunderdin, Pingelly and Mullewa, and redeveloping Dongara Health Service, providing four fit-for-purpose health centres.
The $300 million WACHS capital works program is the largest undertaken by the WA Country Health Service, with new builds and upgrades to 37 hospitals and health services in the Wheatbelt, South West, Great Southern and Midwest.