Friends of health centre to deliver art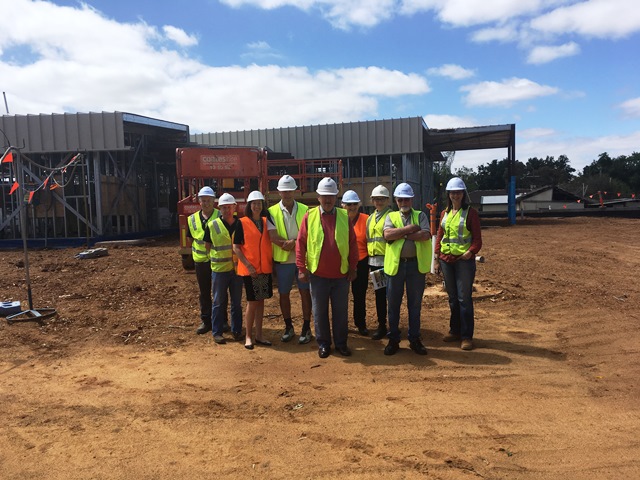 Left to right: Pindan Constructions Gavin Bell, Pindan Constructions Mathew Turpin, Southern Wheatbelt Primary Health Manager Dee Hollett, Friends of William Health Centre Graeme Prouse, Friends of William Health Centre Bill Young, Williams Health Centre Nurse Norma Sinclair, Architect SPH Cherie Kaptein, Friends of Williams Health Centre Ted Gillett, Building Management and Works Project Manager Lina Di Virgilio.
Members of the Friends of Williams Health Centre met with staff from the WA Country Health Service, Building Management and Works, Architect SPH and Pindan Constructions in December to view the construction progress of the new Williams Health Centre.
WA Country Health Service Redevelopment Project Officer Sheldon Paice said the new build would replace the ageing Williams Health Centre.
"Work on the health centre is progressing well with structural steel and the roof being completed prior to Christmas," Mr Paice said.
"The project is due to be finished by August this year and is on track to be complete by that date, or earlier."
Friends of William Health Centre Chairman Graeme Prouse said they enjoyed the site tour and although it was still a construction site at present, it would be very good at completion.
"We're looking forward to the new medical centre and we're excited about it," he said.
"It will be an excellent addition to our town."
The Friends of Williams Health Centre was formed nine years ago by a group of like-minded individuals interested in the care offered by the health centre.
"Over the years we've supported the health centre by raising around $40,000 for new equipment," Mr Prouse said.
The group has been working with the builders to produce a new artwork for the health centre.
"Thanks to benefactor Mary Nunn, we've been able to enlist the help of local William's artist Georgina Finlayson who has designed three panels depicting scenery from the local countryside," he said.
"Local engineer Ray Smith will help us to laser cut the designs into three rust-look steel panels."
Research released in 2016 by the WA Arts and Health Consortium Reference Group showed that art in clinical settings improves clinical outcomes for patients.
The new Williams Health Centre will include an entry, reception, waiting room, emergency treatment bay, three consultation rooms, an ambulance set down area, multifunction meeting room, staff offices, workstations and store rooms.
In the Wheatbelt, Merredin, Northam and Narrogin hospitals are being redeveloped and 23 other smaller hospitals and health centres (including Williams Health Centre) are receiving upgrades across the region.