Geraldton named most outstanding regional hospital in Australia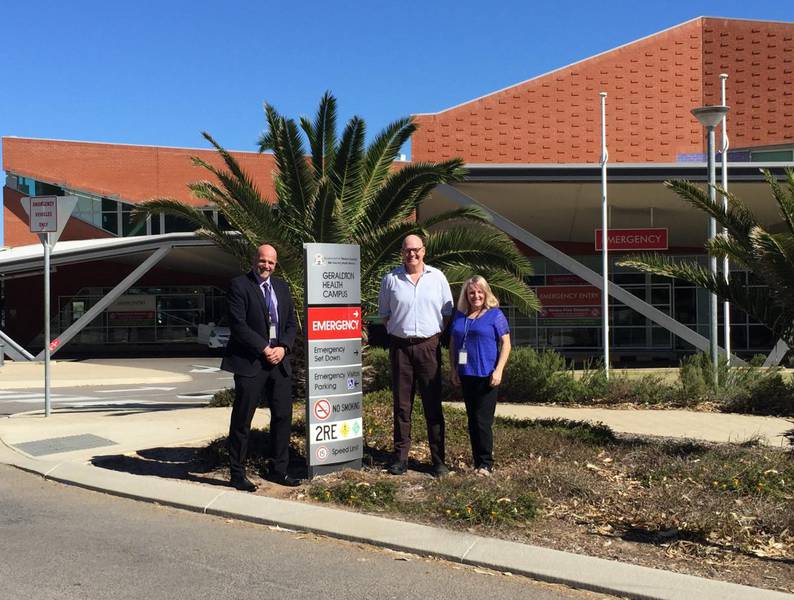 Jeff Calver (Regional Director – Midwest), Derek Fraser (Operations Manager Geraldton Hospital) and Michele Young (Coordinator Executive Services – Midwest) in front of Geraldton Hospital.
Geraldton Hospital has been named the country's most outstanding regional hospital following the Australian Patients Association (APA) awards overnight.
The APA, an independent not-for-profit organisation dedicated to protecting the rights and interest of patients across Australia, said the Midwest hospital had consistently demonstrated an unwavering commitment to public feedback.
WA Country Health Service (WACHS) Regional Director – Midwest, Jeff Calver said while delighted to take out the award, listening to patient feedback was integral to providing safe, high quality patient centered care.
"It goes without saying that I am exceptionally proud of the entire team at Geraldton Hospital," Mr Calver said.
"Whether it be positive, negative or indifferent feedback – it's a hospital that is open about its successes and not afraid to acknowledge lessons learnt," he added.
Mr Calver said while the hospital was constantly engaging with the general public, it was only in 2015 they began using the Patient Opinion model.
"We were originally part of the pilot program and liked that the platform allowed our patients the opportunity to provide feedback outside of traditional methods," he said.
"For us it was about facilitating honest and meaningful conversation," he continued.
Mr Calver said since inception, the region had received more than 138 stories via the service and provided 180 responses.
"Of these, close to 100 involve Geraldton Hospital and have been viewed almost 60,000 times," he said.
"Needless to say, the team has taken full advantage of the feedback and I am confident they will continue to be responsive and agile in the way they deliver health services," he added.
To find out more about what is happening at Geraldton Hospital please visit www.facebook.com/myhealthymidwest .