Grandpa stays home with kids thanks to telehealth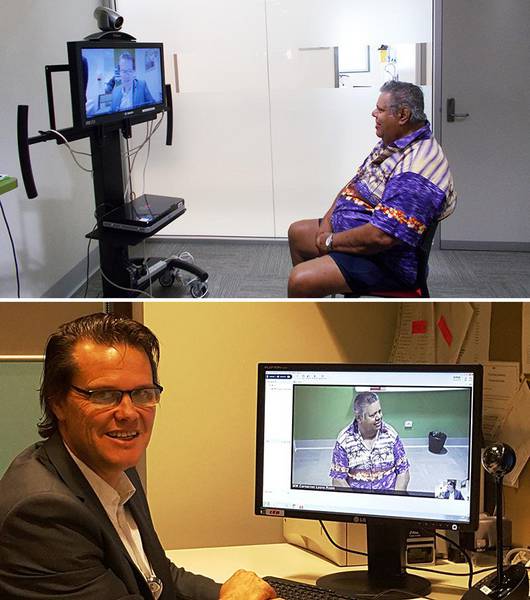 Carnarvon man Colin Cook uses his local telehealth service to speak with his cancer specialist Dr Brad Augustson at Sir Charles Gairdner Hospital, which saves him travelling to Perth.
Carnarvon grandfather Colin Cook is a busy man – he has grandchildren to look after and a busy life to lead.
He is also recovering from cancer, and after having to live in Perth for months to receive treatment, he is glad to be back at home looking after his family.
It is a significant relief then that he doesn't have to keep travelling back to Perth for his follow-up appointments, thanks to the technology of telehealth.
Mr Cook said that using telehealth was very easy and low-stress.
"Travelling to Perth is a lot of mucking about and every time you go you have to organise to pay for accommodation – you just don't need that stress when you're going through treatment," he said.
"My wife works and so I am busy looking after the grandkids."
Mr Cook visits Carnarvon Hospital and a local staff member connects him to his doctor onscreen, using videoconferencing. He recommended that other local people should ask their specialists if they could also use it, rather than travelling for all their appointments.
"People should definitely use telehealth if they can as it saves you all the hassles and all the mucking about.
"You just get up and speak to the bloke on the TV – it's good!"
People in most rural and remote towns across WA can access healthcare appointments using telehealth for more than 30 specialities including cancer services, surgical follow-up, respiratory medicine, blood-related disorders, orthopaedics as well as education for chronic conditions like diabetes and asthma.
More than 18,000 country outpatient appointments were conducted via the WA telehealth network in 2017 as well as more than 7000 mental health services.
Telehealth Awareness Week includes the launch of a 1300 number for telehealth inquiries, a statewide regional advertising and social media campaign, new information materials for patients and healthcare professionals, and displays in hospitals and health centres across the State.
People can enquire about having an appointment by telehealth by asking their health professional or calling 1300 367 166.
More information about telehealth is available at www.healthywa.wa.gov.au/telehealth
Healthcare professionals can join in the conversation during Telehealth Awareness Week 2018 by sharing stories about how appointments via telehealth have helped their patients save time, money and stress. On social media, use the hashtag #telehealthwa
Fact File
Telehealth saved WA country patients from travelling 27.3 million kilometres in 2017 – that's about 12,500 return trips across the Nullarbor, or 35 trips to the moon and back.
About 350 outpatient appointments are delivered every week by telehealth at more than 150 telehealth-enabled sites across WA.
In 2017, there were more than 18,000 outpatient consultations by telehealth across country WA, a one-third increase on 2016.
More than 7000 mental health services were delivered via telehealth across country WA in 2017.
More than 30 outpatient specialties delivered via telehealth are now available closer to home for country people. The top five in 2017 were plastic surgery, respiratory medicine, haematology, orthopaedics and gastroenterology.
Health services delivered by telehealth include emergency care, cancer treatment, palliative care, mental health, stroke emergency treatment and rehabilitation, surgical follow-up and education for chronic conditions such as diabetes and asthma.
Media enquiries: WACHS Communications - wachs.comms@health.wa.gov.au