Ian keeps on trucking for specialist's appointment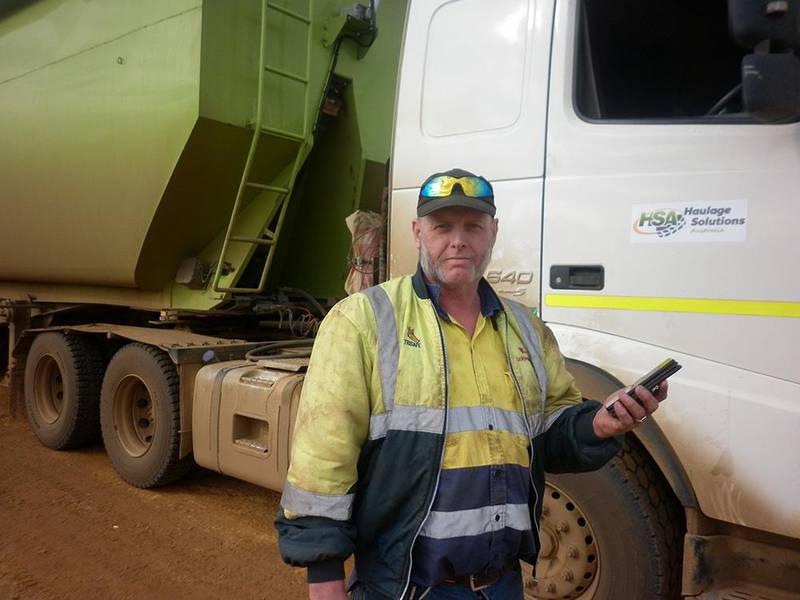 Esperance truck-driver Ian Barlow with his truck and the mobile phone he uses to carry out telehealth appointments with his cancer specialists in Perth.
When Ian Barlow sees his cancer specialist, he's usually sitting in the cab of his road train.
Telehealth is enabling the Esperance truckie, who has lymphoma cancer, to have most of his regular check-ups with his specialist on his smartphone parked at the side of the road during his compulsory fatigue break.
Doing it this way, he avoids a visit to Esperance Hospital for a 5 to 10-minute telehealth appointment which will take three hours out of his working day with travel and waiting time – and the loss of income from time off work.
He couldn't be happier.
"I think it's awesome – wherever I can get mobile service, I can make the call," the 49-year-old father-of-three said.
"I don't have to knock off work for three hours, I don't have to park my truck up, I just pull over and call up."
Healthcare delivered closer to home is under the spotlight this week as part of Telehealth Awareness Week, 25–29 June.
The week has been organised by the WA Country Health Service (WACHS) and its service partners to highlight that healthcare appointments delivered by telehealth are now widely available to country patients, without the stress and cost of travel.
Ian is part of a new Goldfields TeleHaematology service run for WACHS by two Fiona Stanley Hospital haematologists Dustin Hall and Paul Kruger since April.
It follows the success of a Great Southern model begun in January 2017. Both services provide a telehealth-only clinic once a fortnight and an in-person clinic once a fortnight.
Dr Hall said it allowed faster access for patients in the two regions and meant patients had to travel much less.
"The majority of the treatment can be accomplished keeping the patient in the country," he said.
"They might have to come to Perth for a certain scan or to undergo urgent treatment, but otherwise we do it all with telehealth, in-person appointments, investigations and chemotherapy undertaken in the regions."
"With the combined telehealth and in-person model we are able to see up to 90 patients per month in both Albany and Kalgoorlie, instead of having to bring them to Perth."
Dr Hall said telehealth did not diminish the doctor-patient experience of an in-person appointment, even in the case of having to break bad news about a new diagnosis.
"In fact sometimes I think telehealth is better," he said.
"Once people are given a cancer diagnosis, they're often understandably terrified and want to see someone straight away.
"If a patient has never used telehealth before, they might be nervous at first but by the end of the appointment they're very happy it happened because they get news faster."
After initially offering the telehealth service only from regional health centres, the doctors recently opened it up to remote appointments on devices like laptops, phones and iPads.
People in most rural and remote towns across WA can access healthcare appointments using telehealth for more than 30 specialities including cancer services, surgical follow-up, respiratory medicine, blood-related disorders, orthopaedics as well as education for chronic conditions like diabetes and asthma.
More than 18,000 country outpatient appointments were conducted via the WA telehealth network in 2017.
Telehealth Awareness Week includes the launch of a 1300 number for telehealth inquiries, a statewide regional advertising and social media campaign, new information materials for patients and healthcare professionals, and displays in hospitals and health centres across the State.
People can enquire about having an appointment by telehealth by asking their health professional or calling 1300 367 166.
More information about telehealth is available at www.healthywa.wa.gov.au/telehealth
Do you have a good telehealth story? Share it on your favourite social media channel with the hashtag #telehealthwa or on Patient Opinion.
Fact File
Telehealth saved WA country patients from travelling 27.3 million kilometres in 2017 – that's about 12,500 return trips across the Nullarbor, or 35 trips to the moon and back.
About 350 outpatient appointments are delivered every week by telehealth at more than 150 telehealth-enabled sites across WA.
In 2017, there were more than 18,000 outpatient consultations by telehealth across country WA, a one-third increase on 2016.
More than 30 outpatient specialties delivered via telehealth are now available closer to home for country people. The top five in 2017 were plastic surgery, respiratory medicine, haematology, orthopaedics and gastroenterology.
Health services delivered by telehealth include emergency care, cancer treatment, palliative care, mental health, stroke emergency treatment and rehabilitation, surgical follow-up and education for chronic conditions such as diabetes and asthma.
Media enquiries: WACHS Communications - wachs.comms@health.wa.gov.au