Karratha residents to leave their mark on new health campus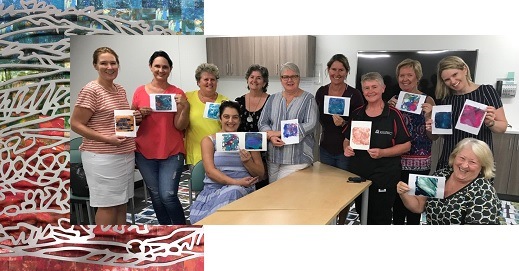 WA artist Leanne Bray (5th left) with health staff at a recent workshop
Karratha residents have been given the opportunity to leave their mark on the new Karratha Health Campus.
WA artist Leanne Bray has been holding workshops with local community groups and health staff to create her unique artwork which will adorn the internal staircase wall.
Leanne said the Karratha community had embraced the opportunity to get involved and make a lasting and colourful contribution to their new health campus.
"More than 60 people attended the workshops which focused on the vast Pilbara landscape and the sessions were about using texture and colour to explore the landscape in a dynamic way," said Leanne.
"Within the workshops I introduced a mono-print technique using a 'gelli plate' and the idea was to produce more than 500 individual prints. These prints will then be scanned and assembled to make the final design which will be digitally printed onto aluminium panels - making up the first layer of the artwork."
This background layer will provide a colourful platform to offset the secondary aluminium layer created by Leanne.
The artwork will be one of several pieces on display in the new health campus.
Fellow WA artist Ian Dowling will draw on his time living in the region to create a wall-based sculpture for the main entry using handmade porcelain tiles.
And a number of individual pieces have already been purchased from artists with connections to the region.
The facility is on track for completion in 2018 and, when completed, will have a significantly expanded emergency department, a brand new surgical centre, new maternity wing and delivery suites, world class telehealth services, new and expanded outpatients and essential services such as child health and medical imaging, all under one roof.
For more information visit www.wacountry.health.wa.gov.au/karratha or find us on Facebook @karrathahealthcampus
WACHS media contact: Clare Paterson, 9223 8754