Kate 'rapt' in telehealth stroke treatment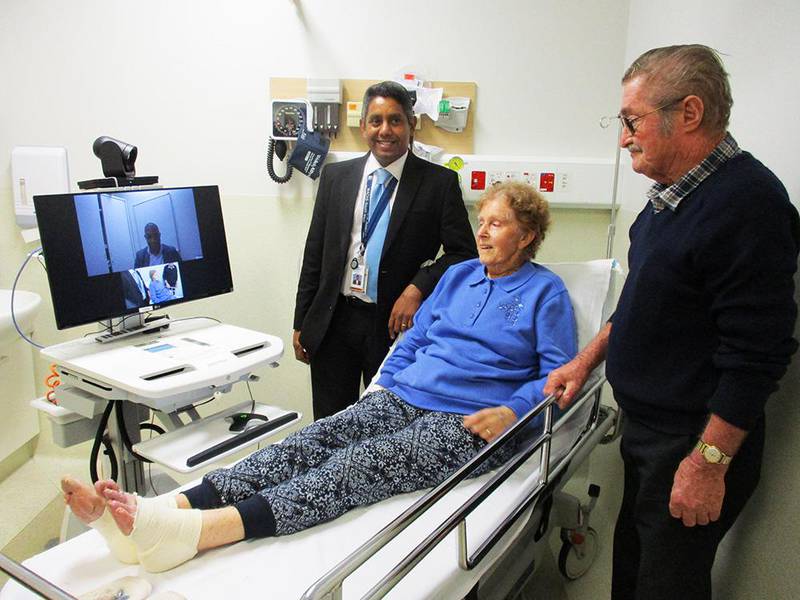 Telehealth-user, stroke patient Kate Haddrill, and husband Ivan with Dr Parthasarathy Ramesh and, pictured on the TeleStroke cart, Dr Tapuwa Musuka.
Bunbury's Kate Haddrill might not remember a lot about the day she suffered a stroke apart from falling twice while making the bed and going to Perth in a helicopter.
But she is quite clear about how grateful she is that local doctors had access to telehealth to enable fast access to treatment which reduced the stroke's impact.
"I wouldn't be as good as I am today, I'm sure of that," she said.
Healthcare delivered closer to home is under the spotlight this week as part of Telehealth Awareness Week, 25–29 June.
The week has been organised by the WA Country Health Service (WACHS) and its service partners to highlight that healthcare delivered by telehealth is now widely available to country patients, without the stress and cost of travel.
After St John Ambulance officers alerted Bunbury Regional Hospital of Kate's suspected stroke, Emergency Department doctor Jason Pierce could be on standby to use the hospital's portable wireless videconferencing cart.
He used it to call Fiona Stanley Hospital (FSH) Acute TeleStroke Service specialist, neurologist Tapuwa Musuka, to get his expert advice about Kate's course of treatment.
Thanks to the medical-grade high-definition telecart, from his desk at FSH Dr Musuka was able to see Kate on screen to see her symptoms – which included speech loss and facial droop on the right side.
He could then ask her, her husband and Dr Pierce questions about her symptoms before recommending a course of action.
With this fast access to a stroke specialist, Kate was then quickly transferred to the Neurological Intervention and Imaging Service of WA (NIISWA) unit at FSH by helicopter for a surgical clot removal four hours later.
This was well within the recommended timeframe to have this treatment and reduce disabilities due to stroke.
Kate was then transferred within a few days back to Bunbury Regional Hospital's Sub Acute Restorative Unit for further therapy and returned home two weeks later after improving well with the high-intensity stroke rehabilitation, including physiotherapy and speech and occupational therapy.
Though the stroke has had some impact on her speech and the use of her right arm and leg, her Bunbury Regional Hospital geriatrician Dr Parthasarathy Ramesh said her outcome might have been very different without the urgent removal of the clot.
"The expertise offered by the emergency doctors with the help of neurologists through telehealth made a significant difference to her recovery," he said.
"Kate's clinical journey demonstrates that high quality multidisciplinary stroke care is achievable with the help of telehealth, from the time ambulance officers notify the emergency department of a suspected stroke, through to the patient's return home, with acute and restorative teams working together on the best outcome for the patient.
"The seamless transitions of care that were able to be provided in her journey from acute stroke to near total recovery allowed a successful return home with husband Ivan."
Meanwhile, Kate says she's over the moon with the result.
"I'm rapt – I can still read the paper, still walk around, still focus," she said.
"You don't know what it means to be at home and still focus on things and still get around."
The Acute TeleStroke Service links country emergency department teams with stroke specialists in metropolitan hospitals using high definition mobile wireless telecarts in Bunbury, Albany and Busselton emergency departments.
This enable faster access to time-critical treatment such as clot retrieval for country stroke patients, which can result in significant improvements in recovery and reductions in stroke-related disability.
Since the Acute TeleStroke Service began in 2015, the number of rural WA stroke patients receiving clot retrieval treatment has doubled from 2015/16 to 2016/17, and tripled for the South West in the past 12 months.
People in most rural and remote towns across WA can access healthcare using telehealth for more than 30 specialities including cancer services, surgical follow-up, respiratory medicine, blood-related disorders, orthopaedics as well as education for chronic conditions like diabetes and asthma.
Telehealth Awareness Week includes the launch of a 1300 number for telehealth inquiries, a statewide regional advertising and social media campaign, new information materials for patients and healthcare professionals, and displays in hospitals and health centres across the State.
People can enquire about using telehealth by asking their health professional or calling 1300 367 166.
More information about telehealth is available at www.healthywa.wa.gov.au/telehealth
Do you have a good telehealth story? Share it on your favourite social media channel with the hashtag #telehealthwa or onPatient Opinion.
Fact File
Telehealth saved WA country patients from travelling 27.3 million kilometres in 2017 – that's about 12,500 return trips across the Nullarbor, or 35 trips to the moon and back.
About 350 outpatient appointments are delivered every week by telehealth at more than 150 telehealth-enabled sites across WA.
In 2017, there were more than 18,000 outpatient consultations by telehealth across country WA, a one-third increase on 2016.
More than 30 outpatient specialties delivered via telehealth are now available closer to home for country people. The top five in 2017 were plastic surgery, respiratory medicine, haematology, orthopaedics and gastroenterology.
Health services delivered by telehealth include emergency care, cancer treatment, palliative care, mental health, stroke emergency treatment and rehabilitation, surgical follow-up and education for chronic conditions such as diabetes and asthma.
Media enquiries: WACHS Communications - wachs.comms@health.wa.gov.au