New maternity ward open at Narrogin Health Service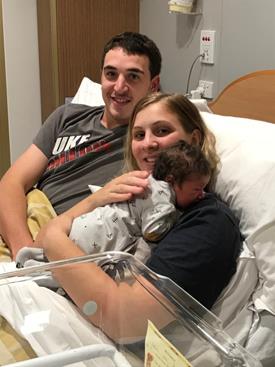 Parents Jake Blight and Brenna Schloithe recently experienced the new maternity ward at Narrogin Health Service during the birth of their daughter Lexi Joy Blight.
Narrogin Health Service's new maternity ward is now open and offering local mums-to-be access to a professional, friendly team of midwives and doctors in modern, spacious facilities.
The WA Country Health Service's Regional Director of Nursing and Midwifery Jeffrey Williams said the new facilities were impressive and would provide families with a comfortable hospital stay.
"Qualified, highly dedicated midwives and nurses help new mums to gain the skills and knowledge needed to confidently care for their new babies," Jeffrey said.
"The rooms in the maternity ward allow mums to keep their babies with them so they can become familiar with their feeding cues and other needs.
"We also give fathers the chance to stay overnight with their partner and new baby."
Features of the maternity ward include two dedicated birthing rooms with ensuites, rooms with lots of natural light and garden outlooks, a room with a double bed, and a bath which can be used by mums for pain relief during labour.
Women who are pregnant or planning a pregnancy can phone the maternity ward on 9881 0333 to arrange a tour of the new ward and discuss their local maternity care needs with the friendly team of midwives and doctors.
Even if women plan to give birth at another hospital, the Narrogin Health Service maternity team can still provide shared antenatal and postnatal care in collaboration with their birth hospital. This allows new families to continue to receive local support in the immediate period after the birth when it often most needed.
The $50 million redevelopment of the Narrogin Health Service is part of the WA Country Health Service's $300 million capital works program to improve capital infrastructure in 37 towns across the Wheatbelt, Great Southern, Midwest and South West regions. In the Wheatbelt, Merredin, Northam and Narrogin Hospitals are being redeveloped as well as upgrades to 23 small hospitals and health centres across the region.