Pingelly Health Centre reaches lock-up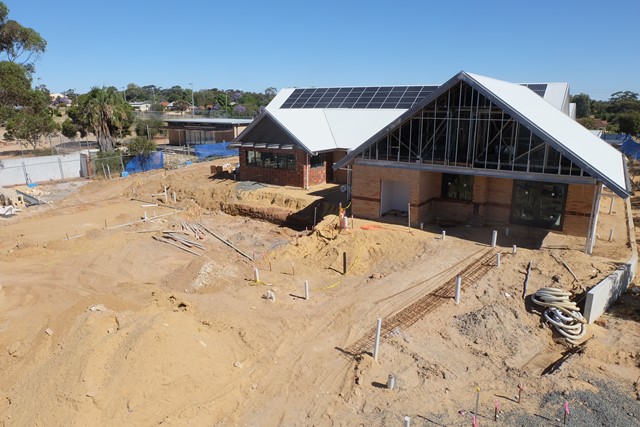 The Pingelly Health Centre has reached lock-up stage
The new $8.8 million Pingelly Health Centre, which is due to replace the Pingelly Hospital, has reached lock-up stage.
WA Country Health Service Wheatbelt Regional Director Sean Conlan said the building was on track to be completed by March 2018 and that staff should move into the new premises in April.
"Builders are now focused on finishing the inside of the building, so flooring, cabinetry, electrical fit out, fixtures and equipment will be installed next," Mr Conlan said.
The Pingelly Health Centre will be the first of its kind in the Wheatbelt. The centre will reflect a change in the way health is delivered, replacing the hospital-based model, which offered limited in-patient care, and will instead focus on providing more primary health initiatives that keep people well, in the community and out of hospital.
"The focus of the health centre will be the promotion of good health, the prevention and early detection of illness and management of chronic disease," Mr Conlan said.
"The community will have access to a range of health services and providers under one roof as well as 24/7 emergency care from an upgraded emergency department.
"To complement the contemporary models of health care, suitable age-appropriate accommodation will be built alongside the health centre, providing easy access to health services and an innovative solution to contemporary age-care needs."
The construction of the Pingelly Health Centre is part of the WACHS's $300 million capital works program to improve capital infrastructure in 37 towns across the Wheatbelt, Great Southern, Midwest and South West regions. In the Wheatbelt, Merredin, Northam and Narrogin Hospitals are being redeveloped as well as upgrades to 23 small hospitals and health centres across the region.