Telehealth offers best practice, patient-centred care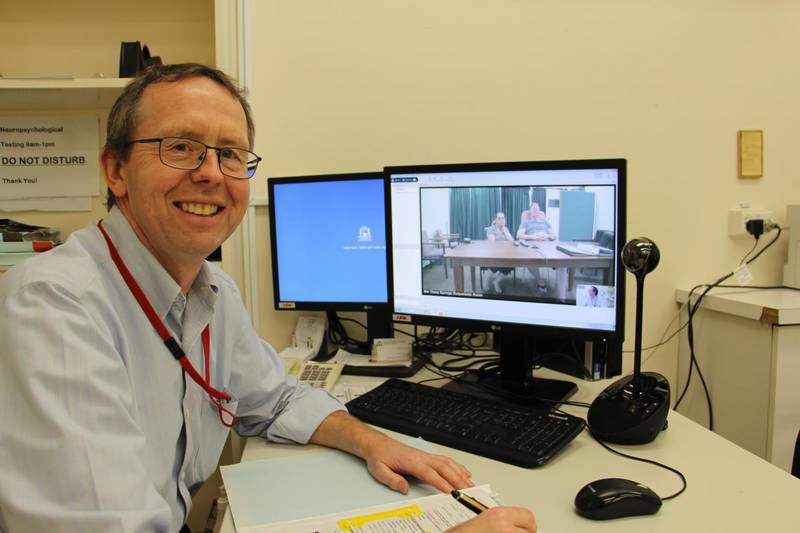 Dr Nick Lawn, Neurologist at the Royal Perth Hospital and Sir Charles Gairdner Hospital, using telehealth.
Neurologist Dr Nick Lawn has used telehealth for his patients from the moment it was available in WA in 2012 and says it allows clinicians to offer the best patient-centred care.
The Royal Perth Hospital and Sir Charles Gairdner Hospital clinician is pleased with the rapid development of telehealth technology in WA, because the benefits for patients were significant.
He said telehealth not only gave patients a reprieve from often-difficult travel, it also offered them a best-practice model of care.
"Telehealth lets me bring my epilepsy clinic to the bush," he said.
"The patient consult can include everyone who is involved in their care – we use videoconferencing to connect my clinic in Perth with the patient, their family member and even their local GP," he said.
"It would be near-on impossible to get these people in the one room without Telehealth.
"This kind of multi-disciplinary care is ideal for country patients who need to be managed primarily by their local GP."
Dr Lawn said in order for this to work best, the patient's various health care providers needed to share the belief that good care coordination, and a shared-care model, offered the best patient-centred service.
"In the past it could be difficult for clinicians to get access to telehealth equipment, but in recent years there has been a lot of investment into increasing the amount of videoconferencing equipment around the health sites, and most clinicians can easily access it," he said.
Dr Lawn said that while he usually met regional patients in person before using telehealth for follow-up appointments, it was sometimes better for patients to have a quick telehealth consult for a first meeting, where he could plan all their tests and procedures before they travelled to Perth.
"With epilepsy patients, a main part of my assessment is talking to family and carers about the patient's history and symptoms, rather than a physical assessment.
"The family members often have to take several days off work to drive the patient to Perth and be in a face to face consult – but with Telehealth they can just pop into their local hospital, and sometimes it can even be done from home.
"This means that some people can fit it into their lunch break – they don't even need to take an hour away from work.
"What matters is that we are in contact with our patients, and that distance doesn't get in the way."
Telehealth Awareness Week is 25-29 June
Telehealth fact file:
Country consumers can access healthcare closer to home using videoconference technology, via the WA telehealth network.
Healthcare delivered closer to home is under the spotlight this week as part of Telehealth Awareness Week 25–29 June.
The week has been organised by the WA Country Health Service and its service partners, to highlight that healthcare appointments delivered by telehealth are now widely available to country patients, without the stress and cost of travel.
More than 18,000 country outpatient appointments were conducted via the WA telehealth network in 2017.
Healthcare appointments by telehealth also provide opportunities for family and carers to be involved in appointments and care coordination.
People in most rural and remote towns across WA can access healthcare appointments using telehealth for more than 30 specialties including oncology, surgical follow-up, respiratory medicine, haematology, orthopaedics as well as education for chronic conditions like diabetes and asthma.
Education and health workforce training is also available for healthcare professionals by videoconference through the WA telehealth network.
Emergency medicine is also delivered via telehealth to 79 hospital and health service sites across WA. The Emergency Telehealth Service conducted more than 17,000 consultations in 2017.
Telehealth is also used to transmit patient images or videos to a health professional for review, for remote health data monitoring by a healthcare team and managing health and wellness through mobile health applications.
Telehealth Awareness Week includes the launch of a 1300 number for telehealth inquiries, a statewide regional advertising and social media campaign, new information materials for patients and healthcare professionals, and displays in hospitals and health centres across the State.
Find out more about telehealth by calling 1300 367 166 or visiting www.wacountry.health.wa.gov.au/telehealth
Healthcare professionals can join in the conversation during Telehealth Awareness Week 2018 by sharing stories about how appointments via telehealth have helped their patients save time, money and stress. On social media, use the hashtag #telehealthwa