Telehealth saves George four-day trip for 5-minute appointment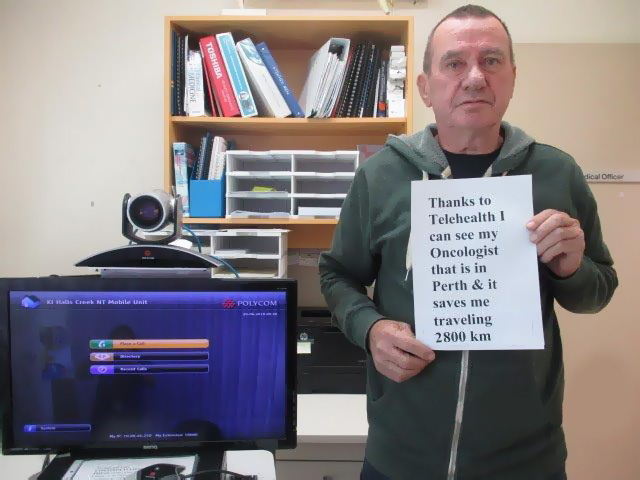 George Trott showing us how telehealth is helping him.
Lung cancer patient George Trott says telehealth takes the stress out of medical appointments and makes a "big difference" to his life in Halls Creek.
Instead of a four-day round trip to Perth for what can be a short follow-up appointment, the 67-year-old can now visit Halls Creek Health Service and talk to his specialist by videoconference.
"I don't like going to Perth for appointments because it feels like a five-minute consultation then you're out the door," George said.
"For me the journey seems like a big waste of time and the costs of the trip add up."
For George, that trip to Perth involves a 400km drive from Halls Creek to Kununurra to catch the plane 3.5 hours to Perth.
He arrives at night and gets a taxi to the Cancer Council Lodge to sleep before attending his appointment the following day.
He then needs another night's stay at the lodge before taking a taxi back to the airport to fly back to Kununurra.
Because the flight arrives late in the afternoon, George has to stay in Kununurra overnight before he drives the next day the remaining 400km back to Halls Creek.
On top of the long journey up-front costs make it costly for George who is on a pension.
Instead, he now drives 30km to Halls Creek Health Service to have his follow-up appointments by telehealth.
George says with telehealth he feels "part of the conversation" even though the consultation is on- screen and not in person.
"You can see the doctor and you know who they are," he said. "Telehealth feels great, I'm very happy with it."
Healthcare delivered closer to home is under the spotlight this week as part of Telehealth Awareness Week, 25–29 June.
The week has been organised by the WA Country Health Service and its service partners to highlight that healthcare delivered by telehealth is now widely available to country patients.
People in most rural and remote towns across WA can access healthcare appointments using telehealth for more than 30 specialities including cancer services, surgical follow-up, respiratory medicine, blood-related disorders, orthopaedics as well as education for chronic conditions like diabetes and asthma.
Telehealth Awareness Week includes the launch of a 1300 number for telehealth inquiries, a statewide regional advertising and social media campaign, new information materials for patients and healthcare professionals, and displays in hospitals and health centres across the State.
People can enquire about having an appointment by telehealth by asking their health professional or calling 1300 367 166.
More information about telehealth is available at www.healthywa.wa.gov.au/telehealth/
Do you have a good telehealth story? Share it on your favourite social media channel with the hashtag #telehealthwa or on Patient Opinion
Fact File
Telehealth saved WA country patients from travelling 27.3 million kilometres in 2017 – that's about 12,500 return trips across the Nullarbor, or 35 trips to the moon and back.
About 350 outpatient appointments are delivered every week by telehealth at more than 150 telehealth-enabled sites across WA.
In 2017, there were more than 18,000 outpatient consultations by telehealth across country WA, a one-third increase on 2016.
More than 30 outpatient specialties delivered via telehealth are now available closer to home for country people. The top five in 2017 were plastic surgery, respiratory medicine, haematology, orthopaedics and gastroenterology.
Health services delivered by telehealth include emergency care, cancer treatment, palliative care, mental health, stroke emergency treatment and rehabilitation, surgical follow-up and education for chronic conditions such as diabetes and asthma.
Media enquiries: WACHS Communications - wachs.comms@health.wa.gov.au