Winner in the Wheatbelt: Local named Nurse of the Year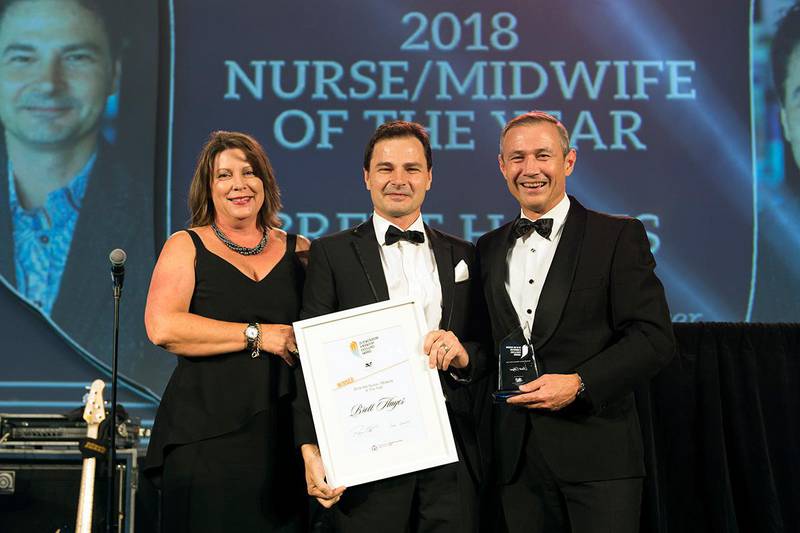 Pictured: WANMEA Nurse of the year winner Brett Hayes with the Minister for Health Roger Cook and Ms Meredith Walker from the WA Nurses Memorial Charitable Trust.
A York man has taken out the top gong at the Western Australian Nursing and Midwifery Awards at the weekend.
Brett Hayes, a Nurse Manager with the WA Country Health Service (WACHS), was acknowledged for his specialist work in palliative care and named the Western Australia's Nurse of the Year.
Mr Hayes, who works exclusively in the Wheatbelt region, has been a nurse for 10 years and originally commenced his career in the city.
"There is quite a contrast between metropolitan and regional nursing," Mr Hayes said.
"Here, we're encouraged to think innovatively and given freedom to explore new ideas," he added.
Referencing his work in bringing telehealth into the homes of patients in the Wheatbelt, Mr Hayes said listening to patients and their families had been fundamental to project development.
"We're very good at problem solving here in the country," Mr Hayes said.
"Telehealth, whereby our patients can reach us using audio and visual links over the internet, means those in rural and remote areas can access specialist services without the need to travel," he added.
Mr Hayes said telehealth technology had proved particularly important when supporting patients in their final stages of care.
"It has made such a difference to supporting our patients with end of care life," he said.
"Previously, only seven to 14 per cent of those in the Wheatbelt wanting to die at home were able.
"This has increased to 70 per cent simply because we can now interact with them face to face via video conference.
"Our service has well and truly become mobile," he added.
WACHS Head of Nursing and Midwifery, Marie Baxter said Mr Hayes was absolutely deserving of Nurse of the Year status.
"Brett has achieved phenomenal results in allowing people to stay at home in their final stages of care," she said.
"He has been persistent and committed in building better options for palliative patients and works with them and their families to achieve the best outcome," she added.
Mr Hayes, who also took out the award for Excellence in Regional and Remote Nursing, said he feels privileged to work in rural WA.
"If we – as experienced palliative care practitioners – can use telehealth to talk carers through uncertain or stressful times and provide them with support and reassurance, more people in the regions will be able to die at home where they want to, surrounded by their loved ones," he said.
The TelePalliative Care in the Home service developed by Mr Hayes in the Wheatbelt in 2016 expanded to the Midwest last month and will begin in the South West and Great Southern in the next couple of months.