Art for health's sake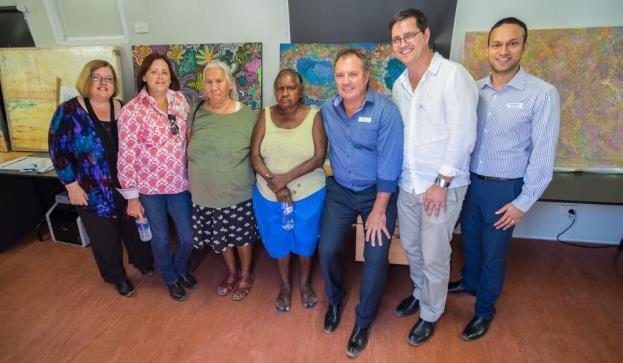 Left to right: WACHS Board Members Meredith Waters and Wendy Newman, artists Violet and Kathy Samson, WACHS Board Chair Professor Neale Fong and Board Members Alan Ferris and Dr Daniel Heredia.
The colours of the beautiful Pilbara coastline and country were on full display recently as WA Country Health Service Board Members were given an exclusive look at some of the exciting artworks which will adorn the new Karratha Health Campus.
As part of the $207.15 million Karratha Health Campus redevelopment, the art collection will showcase the work of a number of artists with connections to the region.
Combining a selection of 2D and 3D pieces in a range of sizes, textures and colours, it will appeal to Karratha's culturally diverse, inclusive and evolving community.
Board Chair Professor Neale Fong and Chief Executive Jeff Moffet, both recognise that Aboriginal art has a vital role in ensuring health facilities are culturally inclusive and welcoming to the Aboriginal community. They were delighted to meet with local artists Violet and Kathy Samson whose paintings caught the eye of the Karratha Health Campus artwork selection committee at the prestigious Cossack Art Exhibition.
"The Pilbara landscape is a place of tremendous diversity reaching from the desert to the sea," said Professor Fong.
"This unique environment is superbly captured in both Violet's artwork 'Under the Sea' and Kathy's 'Ngarluma Country' which we had the pleasure of viewing on our recent trip to the Pilbara.
"In addition, a number of paintings have also been acquired from the Colours of Our Country Exhibition, with many more to be procured and commissioned from Western Australian artists.
"Delivered under the State Government's Percent for Art Scheme, the artwork will enhance both the interior and exterior of the building, providing a visual narrative, encouraging wayfinding and creating a calming and culturally friendly atmosphere."
Mr Moffet said staff, patients and visitors to Karratha Health Campus could look forward to some exciting and colourful pieces when the new facility opens its doors next year.
"As part of the redevelopment, the local Roebourne Art Group (RAG) has been commissioned to complete wayfinding artwork which will not only make the campus more attractive, but will also help patients navigate around the building as well as provide cultural security.
"This type of wayfinding has proved extremely successful at other hospitals including Kalgoorlie and Esperance and we hope to replicate that success here.
"We are also pleased to be able to announce that we have secured the talents of West Australian artists Ian Dowling and Leanne Bray who have been confirmed to create wall-based sculptures for both the main entry and the central staircase," he said.
"Leanne will work directly with the local community in the design of her artwork, which responds to abstractions of the vast Pilbara landscape, while Ian will focus on his time living in the region through an installation of handmade porcelain tiles.
"All the art pieces selected for the new campus will create links to this unique local environment. It will also be a landmark for staff and visitors, a tool for patients and families seeking quiet reflection or a distraction from treatment, as well as injecting colour and form to an often sterile environment," Mr Moffet said.
Art consultant FORM is working closely with builders Brookfield Multiplex Cooper & Oxley JV and WACHS to ensure that each stage of the selection process includes pieces that create a bright and welcoming statement for visitors to the new campus, whilst responding to the local environment and community.
"Securing artwork from local artists and those with a connection to the region will help to ensure that the building not only reflects the local landscape and community, but also meets the diverse population's cultural needs," Professor Fong said.
"Hospitals can sometimes feel so large and clinical. Incorporating good design and artwork into the way hospitals and their surrounds are designed has been proven to impact both patient and staff experience and wellbeing, as well as creating a shared sense of ownership of the hospital environment.
"If a carefully selected piece of art provides comfort to a patient or helps to take their mind off their pain and lower their stress levels, the art has become more than just decorative."
The facility is on track for completion in 2018 and, when completed, will have a significantly expanded emergency department, a brand new surgical centre, new maternity wing and delivery suites, world class telehealth services, new and expanded outpatients and essential services such as child health and medical imaging, all under one roof.
The Karratha Health Campus has been made possible with a $206.5 million investment by the State Government's Royalties for Regions program through the Pilbara Development Commission and $650,000 from Pilbara Industry contributors.
WACHS Media contact: Fran Lyons, 6145 4166