Bob's new knee notches up a milestone at Busselton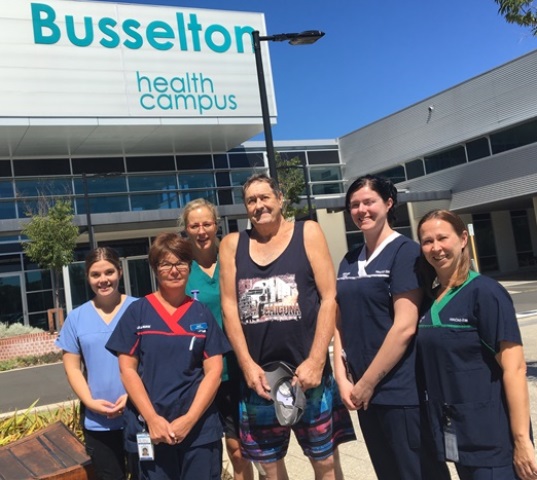 Patient Bob Shaw centre, surrounded by some of the staff involved in his care; (l-r) Billie Corrigan, Sarah Munachen, Kylie Douglas, Bob Shaw, Rheanna Taylor, Jess Stirzaker
When Busselton resident and retiree Bob Shaw underwent surgery at Busselton Health Campus for a knee replacement recently, he was unaware that he'd achieved local notoriety amongst staff.
Mr Shaw became the focus of attention thanks to becoming the 100th patient to have joint surgery at the hospital since the service began nine months ago.
He spent three nights at the hospital following the surgery where he described every aspect of the service as 'top notch'.
"I couldn't fault a thing," he said. "All the staff were brilliant and I experienced such professional service from everyone I encountered from reception staff to the surgeon."
Jan Cook, Operations Manager Coastal at WA Country Health Service said the hospital was committed to offering more elective surgery choice for patients closer to home with the introduction of specialist orthopaedic surgery and first class emergency care.
"Since we commenced this service, the majority of our orthopaedic surgery patients have travelled to Busselton from the broader South West region which has helped build our strong reputation.
"Establishing this service has involved a big team effort, across a number of departments and all of our staff involved deserve recognition for the positive feedback we have received from our patients like Mr Shaw and the good outcomes we've achieved," she said.