Bunbury ED staff reunite with Levi following lifesaving treatment last year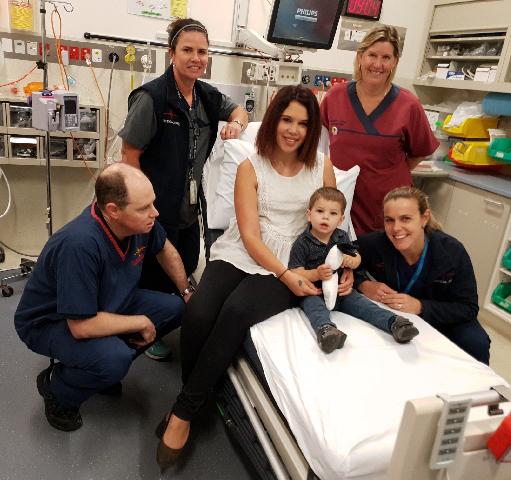 Levi and Cindy Smith (centre) surrounded by Bunbury Hospital ED staff (l-r) Dr Steve Hartwig; Amanda Rynasewycz, Jodie Briggs and Danni Somers
Staff in Bunbury Hospital's Emergency Department were delighted to recently reunite with one of their former patients, 22 month old Levi Smith.
Levi sustained multiple severe injuries last year after he was accidentally run over in the driveway of his home. After clinicians first suspected Levi had a broken collarbone and broken ribs, he was later found to have sustained two collapsed lungs and soft tissue ligament damage to his neck.
Levi's Mum Cindy said the hospital visit was emotional, given it was only six months since the traumatic accident, but she was keen to show her family's appreciation to the staff who she said helped save Levi's life.
Levi was initially treated at Bunbury Hospital's Emergency Department where staff from a number of departments worked intensively to stabilise him prior to his transfer to Perth. Levi then spent three weeks at Perth Children's Hospital, with the first ten days in intensive care (ICU).
Mrs Smith said her family will be forever grateful to the staff who delivered such excellent care for her son and family.
"We have no doubt that if it wasn't for the absolutely amazing care Levi received from all of the staff we met, he would not have made it," she said. "Levi is one very lucky boy to have gone through this ordeal and still be the child he is today." Dr Adam Coulson Director of Emergency Medicine at Bunbury Hospital paid tribute to all of the staff involved in Levi's care last year.
"Levi's care involved a massive team effort not only from staff in our Emergency Department, but also the anaesthetists, paediatricians and surgical staff on duty at the time," he said.
Dr Coulson said Levi's good outcome is a testament in part to the incredible skills, experience and dedication of staff at Bunbury Hospital.
Mrs Smith said Levi has recovered well and sustained no permanent damage from the accident, apart from pressure wounds he developed from the sustained period in ICU. "It was wonderful to welcome him back for a visit and for our staff to see first-hand, how well he's recovered," said Dr Coulson.
Mrs Smith also thanked staff at the Royal Flying Doctor Service and Perth Children's Hospital who cared for Levi and Ronald McDonald House, where the family lived while Levi was treated in Perth.