Bunbury leading the way with positive birth education programs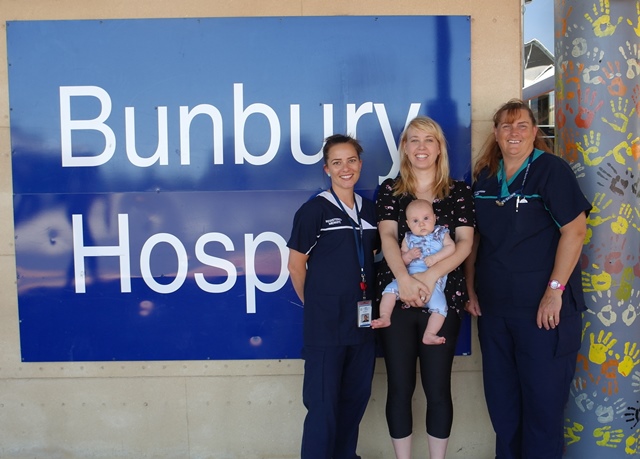 Midwife, Kasey Biggar, Felicity Marra and her son, Leonardo and Clinical Midwifery Manager, Katrina Jones
Bunbury Hospital has broken new ground by becoming one of the first public hospitals in Australia to offer a Positive Birth Program for expecting parents for free.
Midwife and coordinator of the program, Kasey Biggar said the initiative was an exciting development for expecting parents.
The course focuses on the best practice complementary therapies for birth such as breathing and relaxation techniques, acupressure, yoga techniques and physio support, while maintaining the principles of the medical model such as induction of labour, pain relief and unexpected outcomes.
"A recent Australian study highlighted the importance of attending a program that included complementary therapies to support labour and birth," said Ms Biggar.
"It basically halved the intervention rates for births, but the evidence also shows the courses can make a hugely positive difference to the birthing experience of mums and dads because it prepares them to take an active role in the delivery."
Bunbury resident and new Mum Felicity Marra, said completing the Birth Education Program at Bunbury Hospital prior to her son Leonardo's birth three months ago was enormously beneficial and empowering.
"My husband Adam and I learnt so much from the course….it gave us confidence and valuable knowledge prior to and during Leonardo's birth, especially because we knew what our options were ahead of time," said Mrs Marra.
"I am delighted to learn the course will be offered free to expecting parents and I'd urge anyone eligible to enrol."
A Supportive Care Givers Course for midwives and care givers has also been recently introduced at the hospital while plans are also underway to develop an Indigenous program to support and celebrate aboriginal mothers, a Breastfeeding course and a world first Positive C-section Course .
"All of these education initiatives strengthen our Midwifery program at Bunbury Hospital, because it's expecting parents who will benefit from them in a range of different ways," said Ms Biggar.
There are a range of evening, day and weekend classes available. For further information and to make a booking contact Bunbury Hospital Ambulatory services 9722 2284.