Carnarvon's new renal dialysis unit a life-saver for local patients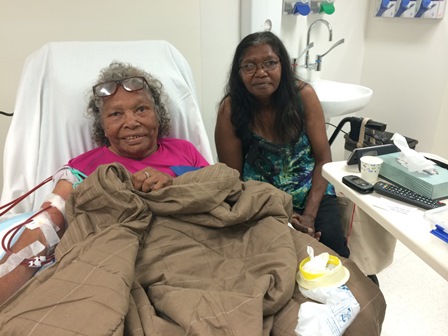 Renal patient Marjorie Winmar with her daughter, Lynette.
Renal patients who live in Carnarvon and surrounding areas are now benefitting from Carnarvon's first purpose-built dialysis unit.
The four-chair haemodialysis unit became operational in April, with four Carnarvon residents becoming the first people to begin receiving their treatment at the new facility.
Herbert Eagles, Robert Taylor, Ethel Ranger and Marjorie Winmar returned home to Carnarvon from Perth where they had been staying to receive treatment.
The dialysis unit is located within the new Carnarvon Health Campus and forms part of the hospital redevelopment and healthcare hub that will also include a brand new renal hostel and by the end of 2019, a new residential aged care facility.
Services are being provided by a WA Country Health Service team of haemodialysis nurses with a nephrologist from Sir Charles Gairdner Hospital set to visit regularly.
The facility has four treatment chairs with portable videoconferencing capability and one chair located in an isolation room. Patients have access to a personal television, to make the time spent receiving dialysis more comfortable and relaxing.
WA Country Health Service Operations Manager Gascoyne, Tamara Sweeney said the local team was now able to provide an essential service for some of the region's most vulnerable patients.
"Renal dialysis is gruelling and time-consuming, and can be made more stressful if patients have to spend long periods of time away from home and loved ones," Ms Sweeney said.
"We're proud that our experienced local nurses are now able to provide services to patients from Carnarvon's first purpose-built renal dialysis unit.
"It will help many of the most vulnerable in the Gascoyne, including a large proportion of Aboriginal people, for whom treatment on Country is essential to their wellbeing."
Construction of the Carnarvon renal dialysis unit was funded as part of the $26.8 million Stage 2 Carnarvon Health Campus redevelopment project with $20.8 million provided by Royalties for Regions as part of the Gascoyne Revitalisation Plan.