Change advocate for rural mental health acknowledged with award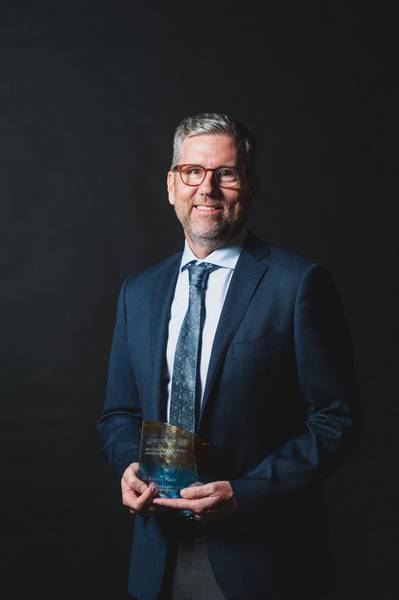 A clinical leader in mental health has been awarded the Metropolitan-based Specialist Bush Champion of the Year at the 2019 WA Country Doctors' Awards held over the weekend by Rural Health West and the WA Country Health Service.
This award recognises Dr Roland Main has been championing improved access to specialist mental health care for country people and providing psychiatry services across the state since 1992.
WA Country Health Service Chief Executive Jeff Moffet said as the Director of Psychiatry for Adult and Older Mental Health, Dr Main provides clinical leadership for the delivery of all public, adult mental health services across regional WA.
"Dr Main is the leading voice in psychiatry for the WA Country Health Service and his experience and pragmatism has significantly contributed to improving mental health service delivery for regional and rural WA," Mr Moffet said.
Rural Health West Chief Executive Tim Shackleton, said Dr Main successfully established an ED to ED transfer for country mental health patients where no other safe care option is available.
"By championing and advocating for improved mental health services for country patients, Dr Main has changed the way mental health care is accessed in regional areas.
"Dr Main exemplifies excellence in improving the provision of healthcare despite the geographical challenges we face in WA," he said.
"I'm pleased to present Dr Main with this well-deserved award," he added.
The Metropolitan-based Specialist Bush Champion of the Year award was sponsored by the Royal Flying Doctor Service and presented to Dr Main at the Awards Dinner held in Perth.