Collie redevelopment celebrated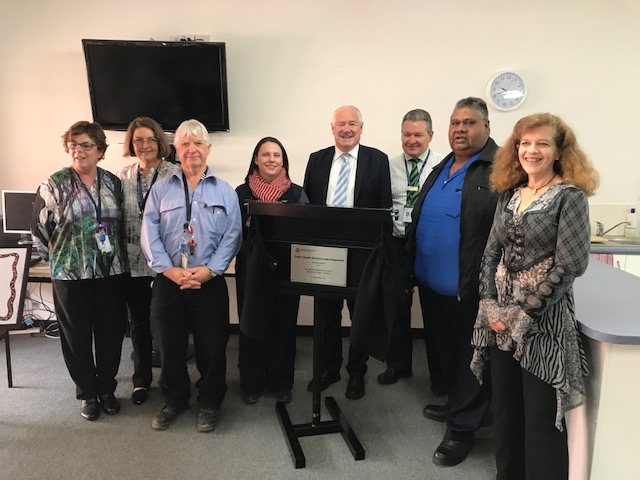 Collie refurbishment: Wellington District Manager Lucy Murphy, Regional Director Kerry Winsor, Senior Project Officer Alan James, CNM Amber Hargans, Collie Preston MLA Michael Murray, WACHS CE Jeff Moffet, Aboriginal Elder James Khan, & DHAC Amanda Lovitt.
The $7.8 million Collie Health Service redevelopment has officially opened and patients and staff are now benefitting from an upgraded emergency department, new reception and triage areas, and updated acute treatment areas.
The construction began in March 2016 and was completed in three stages to allow the health service to continue to operate without interruption.
The first stage of the refurbishment included the new administration area, refurbishments to the hospital entry and reception area, medical records room and outpatients loan equipment facilities.
The second stage of the refurbishment included a staged emergency department refurbishment, a new reception and triage area, waiting room and three acute treatment bays.
The final stage involved further refurbishments to the emergency department with two resuscitation bays, a treatment room, a clean utility/medication room, staff base, write-up room and ambulance bay.
Operations Manager Jeremy Higgins praised the redevelopment.
"The upgraded facilities at Collie are modern and welcoming to patients and their families," he said.
"They have improved the working conditions for staff members, who are enjoying working in a modern and expanded emergency department."
Leschanault–Wellington DHAC Chair Amanda Lovitt officiated at the opening event, and acknowledged WACHS's proactive approach to consumer engagement, which she noted had significantly increased in her years on the DHAC.
Local Noongar elder James Khan provided the Welcome to Country and presented a framed painting to the health service, which will be placed in the reception foyer of the hospital to acknowledge the traditional owners and to welcome patients, carers, visitors and staff to the Wilman Freshwater traditional lands.