GPs impressed with behind the scenes tour of hospital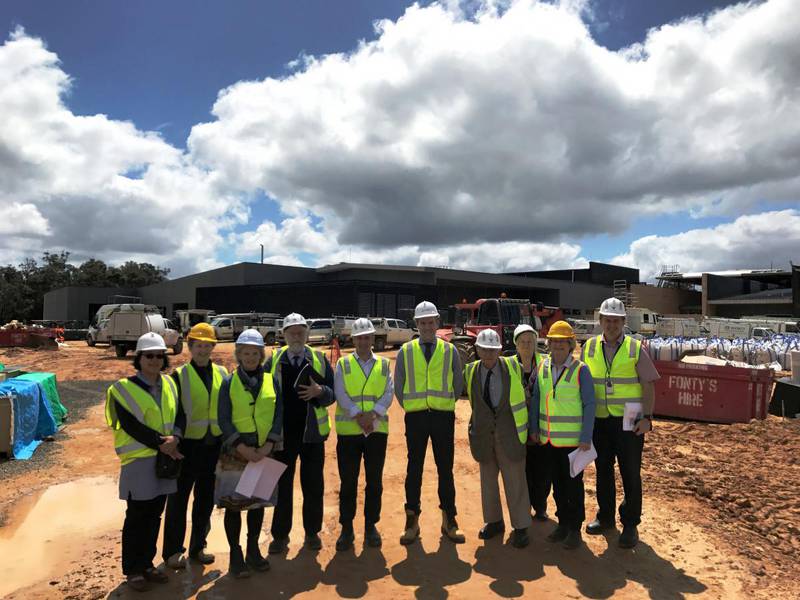 Left to right: Dr Lillian Daniels, Project Officer Jodie Omodei, Dr Alison Turner, Dr John Davies, Dr Peter Wutchak, Dr Paul Griffiths, Dr James Bowie, Manager Community Health Heather Dixon, A/District Manager Sally Towie and Inland Operations Manager Jeremy Higgins.
Members of the Warren Medical Advisory Committee, a group made up of medical practitioners and WA Country Health Service (WACHS) operational staff, recently toured the construction site of the new $39.3million Warren Health Service.
WACHS South West Regional Director Kerry Winsor said the outside structure of the building was largely completed and that work had begun in earnest on the inside.
"The internal fittings of the inpatient ward and emergency department are currently being completed. This includes the ceilings, internal walls, cabinetry, flooring, plumbing and electrical," Ms Winsor said.
"Over the next few months we will be working on carparks and roadways, the inpatient ward, emergency department and completing the administration and outpatient departments."
Dr Paul Griffiths was one of the admitting and attending doctors at Warren Health Service that toured the construction site.
"The tour helped us appreciate how complicated the inside of a hospital is. They are exceptionally engineered and you don't normally get to see that," Dr Griffiths said.
"Hospitals are more than bricks, walls and roofs. It's the finer details we don't see – they are living, breathing machines."
The Warren Medical Advisory Committee meets bi-monthly and recognises the importance of medical practitioner input and advice on operations of the Warren Health Service.
Once completed, the Warren Health Service in Manjimup will include a state-of-the-art emergency department, ambulance facilities, inpatient ward, surgical services including operating theatre, birthing suite, medical imaging, pathology department, primary health care and other support services.
The construction of the Warren Health Service is part of WACHS's $300 million capital works program to improve capital infrastructure in 37 towns across the Wheatbelt, Great Southern, Midwest and South West regions.