GPs inspect Katanning Health Service build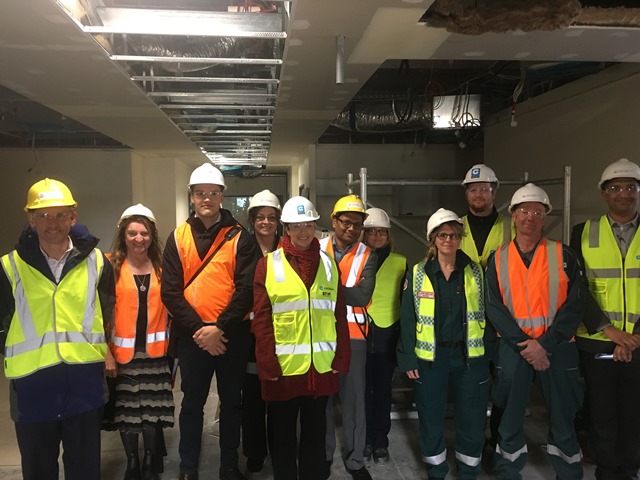 Left to right: GP Dr Nickie DuPreez, Director of Nursing/Health Service Manager Katanning Health Service Robyn Millar, medical student George Cunningham , St Luke's Family Practice office administrator and St John Ambulance volunteer Claire Collis, St Luke's Practice Manager Claire Fleming, GP Dr Deepak Panneerselvam, Project Officer Building Management and Works Mally Rall , St John Ambulance Officer Sonia Huggins, Site Supervisor Cockram Constructions John Twinch, St John Ambulance Officer Chris Obst and GP Dr Hafees Saleem.
Local general practitioners (GPs) were among a number of health workers invited to tour the new build section of the $32 million redevelopment of the Katanning Health Service recently.
WA Country Health Service Regional Director David Naughton said the tour provided a good opportunity to show the local GPs what facilities would be available and to orientate them with the new emergency department where they would be providing on-call assistance in emergency situations.
"The new build will incorporate a state-of-the-art emergency department with five treatment bays, two of which will be equipped with Emergency Telehealth Services, a procedure room and a consultation room," Mr Naughton said.
"Located adjacent to the emergency department will be a new medical imaging department and an expanded outpatient facility with increased telehealth capacity allowing patients to speak to specialists located in other towns via video-conferencing.
"The outpatient facility will include dedicated consultation rooms for child health, podiatry, nutrition, audiology, physiotherapy, wound treatment, vaccinations, mental health and aboriginal health among other things.
"The outpatient facility also includes four consultation rooms and will cater for a variety of visiting medical specialists.
"Having visiting specialists and telehealth capacity has had a significant positive impact on the Katanning community as they are able to have their consultations locally without having to travel to Perth or Albany. It is important that we encourage visiting specialists to come to Katanning by providing better equipped and dedicated consulting rooms."
Mr Naughton said the construction was gaining momentum and that significant progress had been made on the new build.
"The new build component is expected to become operational by the end of this year," he said.
The redevelopment of Katanning Health Service will also include a refurbishment of the main entrance, reception and waiting areas, surgical services and sterilising facilities, a new laundry and morgue and repairs to the main roof. The kitchen refurbishment, including updated equipment was completed in February this year.
The redevelopment is part of the half a billion dollar Southern Health Initiative and is the State's single biggest investment in regional healthcare in WA history. Under the initiative, a $300 million capital works program is underway to improve hospital infrastructure in 37 towns across the Wheatbelt, Great Southern, Midwest and South West to ensure these facilities continue to be equipped to deliver contemporary models of care now and in the future.
The entire Katanning Health Service redevelopment is expected to be completed in mid–2018.