Happy cooks at Narrogin Health Service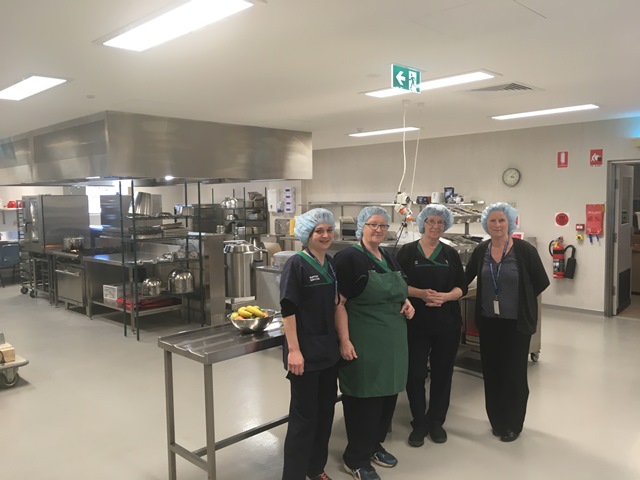 Food service staff in the refurbished kitchen. Left to right: Food Service Attendant Jaimi-Lee Stucke, Cook Amanda Donavon, Leading Hand Food Service Attendant Janice Johnstone, Support Services Coordinator Angie Clark.
The food service staff at Narrogin Health Service are the first to reap the rewards of a $50 million redevelopment of the health service under the Southern Inland Health Initiative.
For the last few months the food service staff have been producing meals for patients from a temporary transportable kitchen, but now they have moved back into their refurbished home, a contemporary kitchen featuring brand new stainless-steel equipment.
WA Country Health Service Wheatbelt Regional Director Sean Conlan said progress was being made on the two year construction project.
"In addition to the refurbished kitchen, minor works on the sewer have been finished, external walls are up and the roof is on for the inpatient area and new outpatient building and part of the front carpark is complete" Mr Conlan said.
"By the time the construction period is complete around the end of 2018, the refurbishment will deliver a new outpatient building, a new inpatient ward with two new birthing rooms with ensuites, theatre, procedure room, sterilising department and new dental and chemotherapy services."
Work is ongoing in the new inpatient ward and outpatient building with internal fit out of walls and services. Other upcoming construction work includes laundry refurbishment , construction of the rear carpark, theatres, pathology, chemotherapy and dental services.
The redevelopment of the Narrogin Health Service is part of the Southern Inland Health Initiative's $300 million capital works program to improve capital infrastructure in 37 towns across the Wheatbelt, Great Southern, Midwest and South West regions. In the Wheatbelt, Merredin, Northam and Narrogin Hospitals are being redeveloped as well as upgrades to 23 small hospitals and health centres across the region.