Home-grown talent produces healing art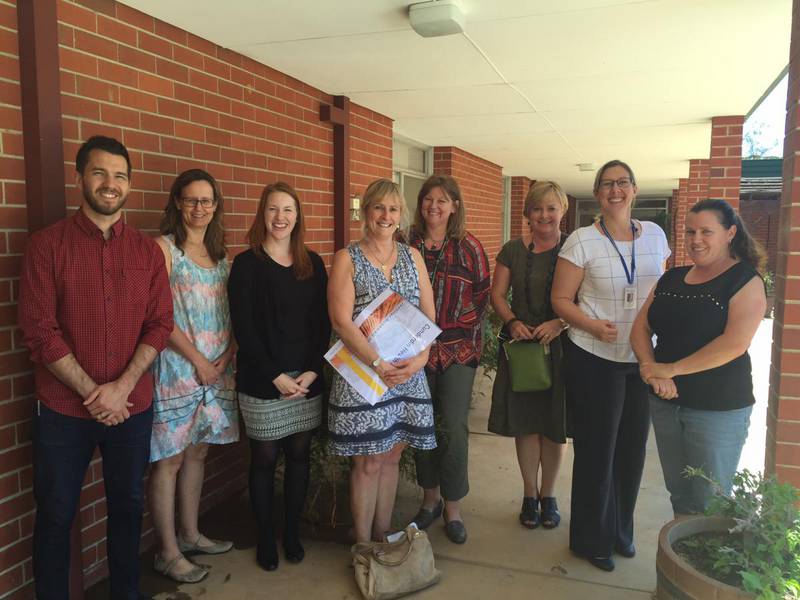 Left to right; Joel Fuller (Architect from Iredale Pedersen Hook), Donna Jasper (Art Committee community representative), Grace Miller (BMW Project Manager), Jennifer Hopewell (successful artist), Nicole Harwood (Hospital Services Manager Cunderdin Health Centre), Alison Barrett (BMW Art Coordinator), Emma Birch (WACHS Project officer) Carmen Reynolds (Art committee community representative).
A well regarded West Australian artist who was born in the Wheatbelt town of Cunderdin has been fittingly commissioned to produce artwork for the new Cunderdin Health Centre under the State Government's Percent for Art Scheme.
WA Country Health Service Wheatbelt Regional Director Sean Conlan said Jennifer Hopewell's submission focused on producing artwork that reflected the bushland and surrounding farming settlements in the Cunderdin area.
"Jennifer's artwork will beautify the Cunderdin Health Centre and will be enjoyed by both visitors and staff alike," Mr Conlan said.
"Using a full-colour glass printing process, Jennifer's artwork will be transferred onto windows and automatic sliding doors to provide privacy and aid in orientation and wayfinding around the health centre.
"She will also produce a suite of aluminium screens which will be installed in the ambulance car port and on fencing facing the group rooms and aged accommodation units."
Jennifer, who exhibits annually at her studio in Dalkeith, said that in executing the public art project she hoped to encourage visitors to enjoy and reflect on the beautiful environment in surrounding areas.
"Nature is the cornerstone of my work and the unifying theme for this project," she said.
"Through photographic reproductions of my work in combination with digitally manipulated designs, I aim to communicate the poetic nature of this varied district embodying two contrasting elements.
"I believe nature has the power to heal both physically and mentally. It has a calming, healing vibration – giving space and distraction from busy negative thoughts.
Jennifer proposes to take her landscape paintings and manipulate them, focusing on abstract painterly patterns and cutting out shapes and overlays.
"I will reference recognisable elements of the Wheatbelt landscape. I'm imagining soft edges, colourful stains, layered patterns and familiar motifs," she said.
Construction of the Cunderdin Health Centre is part of the Southern Inland Health Initiative's $300 million capital works program. The program is the largest undertaken by the WA Country Health Service, with new builds and upgrades to 37 hospitals and health services in the Wheatbelt, South West, Great Southern and Midwest.
The Percent for Art Scheme employs many WA artists each year to deliver artworks for a wide range of public projects.