Innovative donation fascinates and supports Dongara ED patients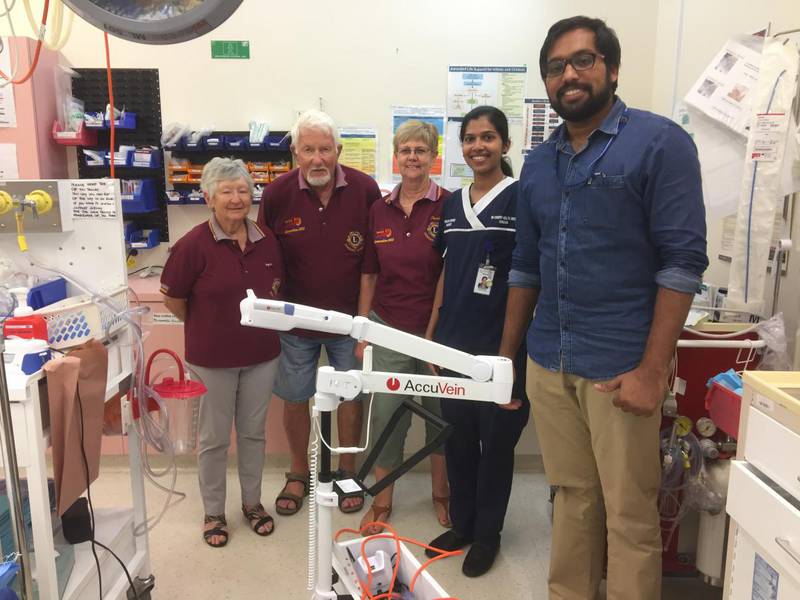 Joyce Murray, David Murray, Freda Chandler, Monisha George and Nigesh Karattu Madathil.
The Eneabba Mingenew Health Service emergency department were gifted an AccuVein infrared vein finder last month to assist clinicians in inserting cannula tubes into patient's veins.
The $10,000 donation was made by the Dongara Denison Lions Club after the nursing team demonstrated the benefits the machine would have on community members if the emergency department were to acquire a machine.
Jeffrey Calver, the WA Country Health Service Regional Director (Midwest) said that the AccuVein machine was especially helpful for finding veins in dehydrated patients, the elderly and children.
"Haemoglobin in the blood is attracted to infrared light which is why the AccuVein machine is helpful to clinicians in finding appropriate veins to place a cannula tube into, especially in dehydrated patients, the elderly and children, where unassisted cannulation may be difficult," Mr Calver said.
"Our Emergency Department team have reported children and adults alike being fascinated with the innovative technology and ability to see their vein structure under the infrared light so as well as a useful tool, it can also work as a distraction to patients from their procedures."
The new piece of medical equipment isn't the only donation the health service has received from the Dongara Denison Lions Club. The community group has also donated a shower trolley for the aged care home and along with the Dongara Local Charities, co-donated an i-Stat blood analyser machine to provide clinicians with faster lab results.
"The AccuVein machine is a great piece of innovative equipment and a welcome addition to the Emergency Department. The Eneabba Mingenew Health Service is very fortunate to have such a generous community," said Mr Calver.