Merredin ED reaches half-way point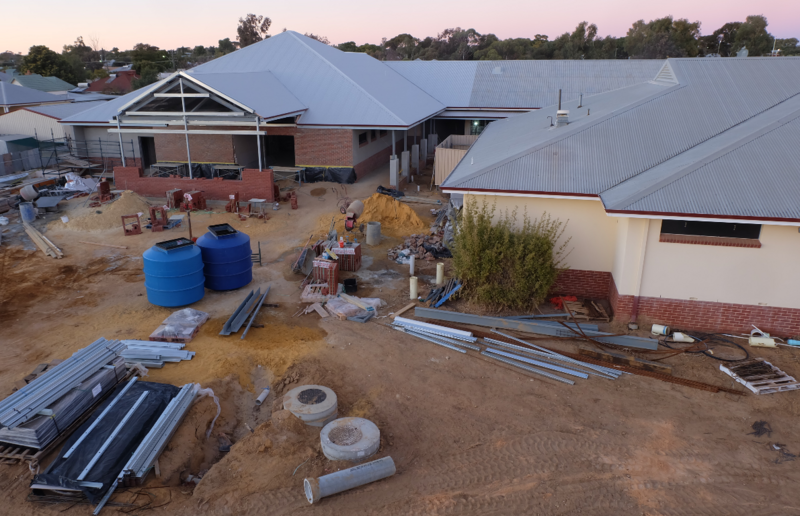 Merredin Health Service's new emergency department is under construction
Merredin Health Service's new emergency department has become a reality with construction well underway.
Wheatbelt Regional Director Sean Conlan said construction started in February this year and that the building's frames, roof and structural walls have been completed.
"The community will be pleased to see the new ED taking shape and to know that it is on track to be completed by October this year," Mr Conlan said.
"Builders are currently installing air-conditioning ductwork, communications cables, electrical wiring and medical gases into the building.
"Thanks to the Southern Inland Health Initiative's $300 million capital works project, Merredin is just one of many hospital and health centres to be upgraded.
"Redevelopments such as those happening throughout the Wheatbelt mean that we can continue to offer high quality care to our patients without them having to travel great distances to the city to receive treatment."
The new emergency department will be extensive and features a resuscitation bay, a dedicated reception and triage area, a patient waiting area, two acute treatment bays, a minor procedure room and a consultation room. Other features will include a dedicated ambulance entry, short-term patient parking, medical offices, staff room, parent room and a quiet room for families of patients.
The first three stages of construction have already been completed and include additional temporary parking, widening the entrance to the hospital, a new visitor car park and refurbishment of the palliative care room.
There are still another five stages of the redevelopment to go. These stages include a new outpatient building, a major refurbishment of the kitchen and laundry, a medical imaging room and new office accommodation for staff. Works are scheduled for completion in late 2018.
The redevelopment is part of the Southern Inland Health Initiative's $300 million capital works program to improve capital infrastructure in 37 towns across the Wheatbelt, Great Southern, Midwest and South West regions.