Midwife practice delivers first birth to Northam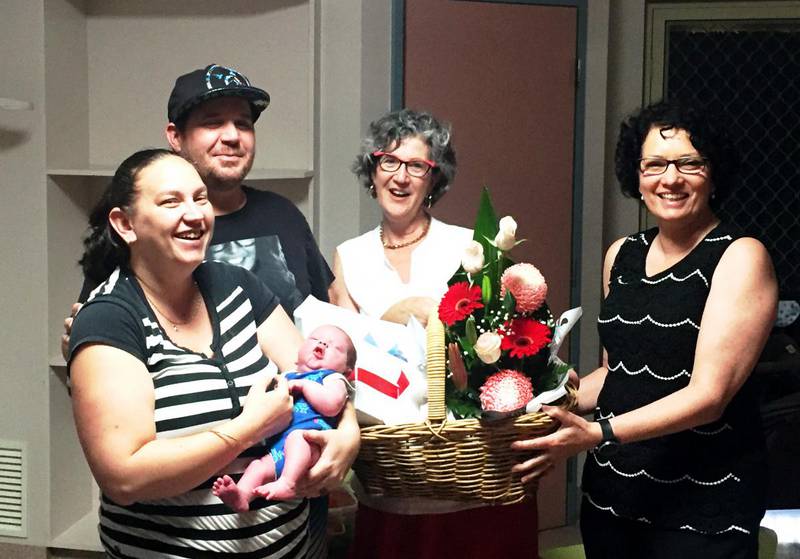 Happy parents Liz and Jeremy Osborne receive flowers from their midwives Marie Hill (left) and Judi Turner. Their son Thomas John was the first baby born at Northam Hospital in two years thanks to its new Midwifery Group Practice.
Northam Hospital has seen its first birth since 2015 after the new Wheatbelt Midwifery Group Practice (MGP) began on 1 November this year.
Liz Osborne gave birth to a bouncing baby boy, Thomas John, in the re-opened maternity unit at 9.25am on 11 November with the support of midwives Marie Hill and Judi Turner.
Under the midwifery-led program, four experienced midwives based at the hospital support women without any pregnancy complications for birth and with antenatal and postnatal care, in collaboration with GPs where required.
Women with pregnancy complications are required to birth at a metropolitan hospital but the MGP will provide their antenatal and postnatal care in collaboration with their metropolitan maternity service.
The midwives, who have more than 100 years of experience between them, are hoping to birth 20 babies at Northam this financial year.
Mum-of-three Liz, from Northam, said her experience with the MGP was fantastic and she couldn't be happier.
"Dealing with Judi and Marie was easy, relaxed and exactly what you want as a first-time mum or third-time mum," she said.
"From the first meeting with Marie, not only was I confident in dealing with the midwives and birthing in Northam, I was excited – and everyone who knew me soon heard the news of me being able to birth in Northam."
Liz said Wheatbelt MGP project manager Marie contacted her about the MGP after her GP forwarded her pregnancy details, and soon signed up after sitting down with Marie to discuss what would be happening with the practice.
"I know a few other women who have recently given birth who unfortunately missed out on giving birth in Northam who I believe would have found everything so much easier here," she said.
"I also am aware of a few current pregnant women who I have forwarded Marie's contact details to."
Wheatbelt Regional Director Sean Conlan said the WA Country Health Service was very pleased to be able to reinstate birthing for women without complications at Northam Hospital.
"Bringing maternity services back to Northam was something local women were very keen on and we are really glad to have found a safe way to offer local maternity care again," he said.
"The MGP model has been in WA for more than a decade now and is proving to be a safe and popular way for women with uncomplicated pregnancies to give birth without requiring an obstetrician to be available 24/7 at the hospital."
Under the MGP model, women receive continuity of maternity care by being matched with a midwife who they meet regularly during pregnancy and who supports them through labour and in early postnatal care.
The Wheatbelt MGP is backed by specialist obstetric services from St John of God Midland Public Hospital which provides antenatal appointments and medical care in the event a woman chooses or needs to transfer from Northam.
The practice is already supporting 12 expectant local mums who plan to birth at Northam.
Once the baby is born, the family are supported by the local child health team.
"While women without pregnancy complications birth at Northam, we also provide shared antenatal and postnatal care for women with pregnancy complications who are booked to birth at metropolitan hospitals in conjunction with their metropolitan maternity care providers," Marie said.
"Our midwives are already supporting 13 such women."
The service, which is available to pregnant women within an hour's drive of Northam, was developed as a joint venture between WACHS's Wheatbelt regional office and the Southern Inland Health Initiative Maternal Health Improvement Project.
Women who would like to know more about the Wheatbelt MGP can email Wheatbelt.MidwiferyGroupPractice@health.wa.gov.au or phone 9690 1633.