New Cunderdin Health Centre becomes operational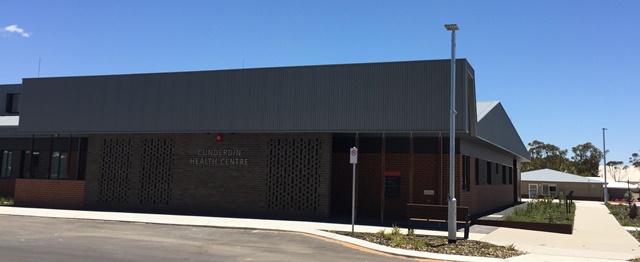 An external view of the new Cunderdin Health Centre
The innovative new Cunderdin Health Centre is now in use by the local community after recently opening its doors.
Wheatbelt Regional Director Sean Conlan said the centre promises a new era in health care with a focus on promoting good health, preventing illness and the management of chronic disease.
"The new centre will give the local community improved primary health and community care facilities to keep people healthy and well in the region," said Mr Conlan.
The new Health Centre which replaces the old Cunderdin hospital was developed in consultation with the local community and gives the community access to a range of health services and providers under one roof.
In addition to enhanced primary and community care services the health centre provides 24/7 emergency care from a state-of-the-art, modern emergency department with Emergency Telehealth equipment.
The Cunderdin Health Centre features Telehealth videoconferencing facilities to allow local residents to access care closer to home without travelling great distances for treatment and specialist appointments.
The Cunderdin Health Centre is located at 55 Lundy Ave, Cunderdin and all phone numbers, faxes and email addresses of the Hospital and staff will remain the same.
Phone: 96352222 Fax: 96352221 Email: Cunderdin@health.wa.gov.au