New health service taking shape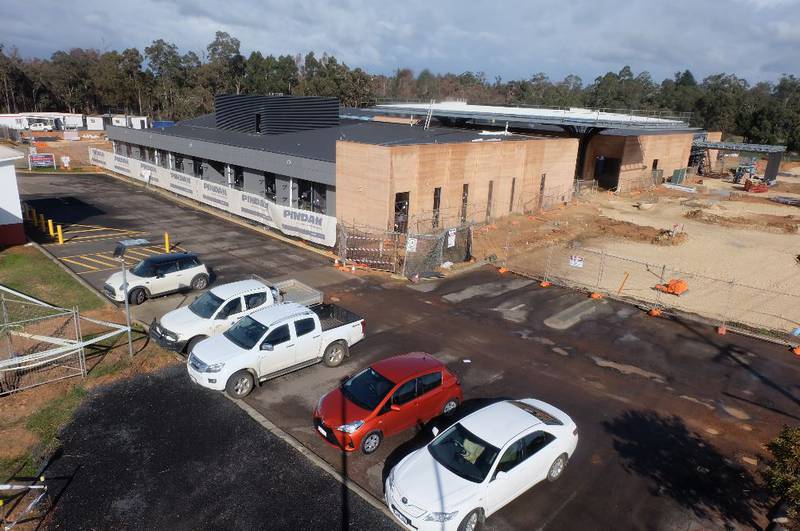 Warren Health Service construction progress August 2017.
Construction of the new Warren Health Service in Manjimup is over half-way with rammed-earth walls and roof now completed.
South West Regional Director Kerry Winsor said construction started in September last year and despite inclement weather through winter, the project was still running to plan.
"The community will be pleased to see the new health service taking shape and to know that the new build is on track to be completed and operational by the middle of 2018," Ms Winsor said.
"Demolition of the existing hospital, site clean-up and landscaping is planned to be completed towards the end of 2018."
Work has now started in earnest on the inside of the building with the focus being on preparing the walls and installing ceilings and windows. Some cabinetry has started in the outpatient building and airconditioning and a generator has been installed. Work has begun on the carpark and surrounding road works.
"Thanks to the Southern Inland Health Initiative's $300 million capital works project, both Warren and Collie Health Service have received upgrades.
"Redevelopments such as these mean that patients have access to contemporary fit-for-purpose health facilities close to home."
Once completed, the Warren Health Service in Manjimup will include a state-of-the-art emergency department, ambulance facilities, an inpatient ward, surgical services, operating theatre, birthing suite, medical imaging, pathology department, primary health care and other support services.
To view a time-lapse video of the Warren Health Service being constructed visit www.wacountry.health.wa.gov.au/index.php
The redevelopment is part of the Southern Inland Health Initiative's $300 million capital works program to improve capital infrastructure in 37 towns across the Wheatbelt, Great Southern, Midwest and South West regions.