Pilbara in the spotlight during WACHS Board visit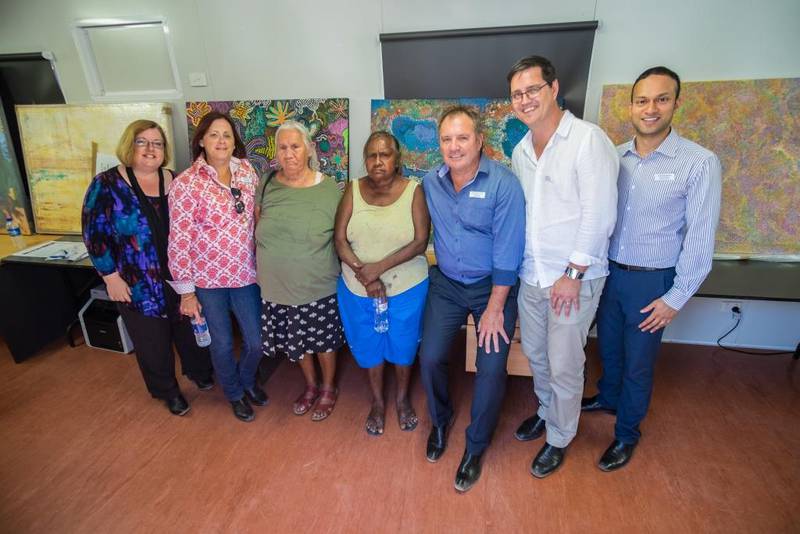 WACHS Board Members with local artists Violet and Kathy Samson
The health needs of the diverse Pilbara community will be in the spotlight this week as Board Members visit the region for a series of regional engagement meetings and presentations.
Led by Board Chair Professor Neale Fong, the WACHS Board will meet with regional Pilbara staff and representatives of key organisations including the local District Health Advisory Committee (DHAC) and Aboriginal Medical Services (AMS).
In its first official visit to the region, Professor Fong said the Board had a full and interesting agenda planned including visits to the new Karratha Health Campus and the remote community of Roebourne.
"Board Members are looking forward to a tour of the impressive Karratha Health Campus and seeing first-hand the significant progress that is being made," he said.
"The drone footage and time lapse videos give an exciting perspective of the 13,000 square metre building, but I am sure we will get a real sense of scale and significance as we walk through the facility.
"I am also particularly looking forward to meeting some of the local artists who will have their artwork displayed in the new campus.
"Art plays a critical role in many of our regional facilities, providing unique wayfinding as well as linking to the diverse cultural needs of our rural populations."
During the two day regional engagement visit, Board members will also tour Roebourne Hospital and be briefed on the new renal facility for Roebourne which will replace the existing two-chair facility.
The purpose built community facility will enable local residents with end stage kidney disease without suitable home environment to be able to perform their own treatment closer to home.
As the State's second most northern region, the diverse Pilbara landscape covers over 500,000 square kilometres. Despite the challenges of these vast distances, WACHS offers comprehensive health services to the region's 67,000 residents.
"Providing a range of health services in country WA can be extremely challenging and we need to be constantly looking at how we can improve or do things differently," said Professor Fong.
"That is why, as a Board, it is crucial that we regularly visit each of the regions so we can continue to get a greater understanding of how to be responsive to the needs of country patients and communities.
"The Board's key role is to oversee the provision of high-quality and sustainable health services to local communities. Having the opportunity to engage and consult with local service providers and community members helps ensure that decision making at the Board level is well informed by service need on the ground."
You can find more information about the WA Country Health Service Board here.
Media enquiries: Fran Lyons on 6145 4166 or fran.lyons@health.wa.gov.au