Red-tailed cockatoo honoured in artwork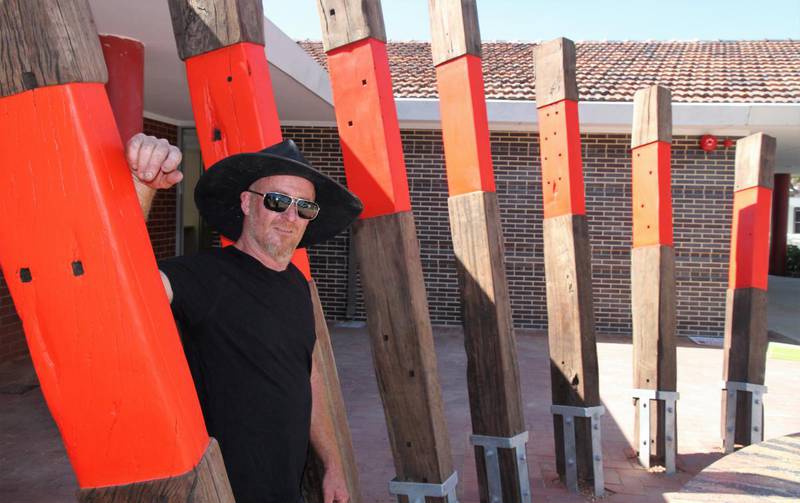 Artist Jahne Rees with his artwork at Collie Health Service
A beautiful artwork referencing the red-tailed cockatoo and commissioned under the Percent for Art Scheme is now in place at the Collie Health Service.
The functional entry statement by acclaimed public artist Jahne Rees reflects local history and wildlife themes.
WA Country Health Service South West Regional Director Kerry Winsor said the artwork had been keenly anticipated by staff and the local community and helped to beautify the entrance to the hospital.
"Mr Rees' artwork reflects Collie's timber, rail and coal history as well as incorporating the red and orange colours found in the feathers of the red-tail cockatoo," Ms Winsor said.
"The artwork is functional and includes a bench seat, providing patients and guests with a place to stop and rest.
"The artwork project is just one component of the $7.8 million dollar upgrade currently underway at the Collie Health Service as part Southern Inland Health Initiative, which is funded by the Royalties for Regions program."
The Percent for Art Scheme employs Western Australian artists to deliver exciting works for major new public buildings including schools, police stations and health services.
Mr Rees has undertaken a series of successful art commissions over the past 15 years, including a sculpture at St John of God Hospital in Midland, an artwork in Brighton Plaza in Mandurah and the Seventh Avenue Bridge public art commission for Main Roads.
Mr Rees collaborated with builder Liam Cole to create the Collie Health Service artwork.
The Collie Health Service upgrades include a major refurbishment of the Emergency Department, plus a new administration centre and hospital entry. The administration centre and hospital entry component was finished late last year and the whole project is due for completion in May.