Redevelopment at Goomalling Health Service progressing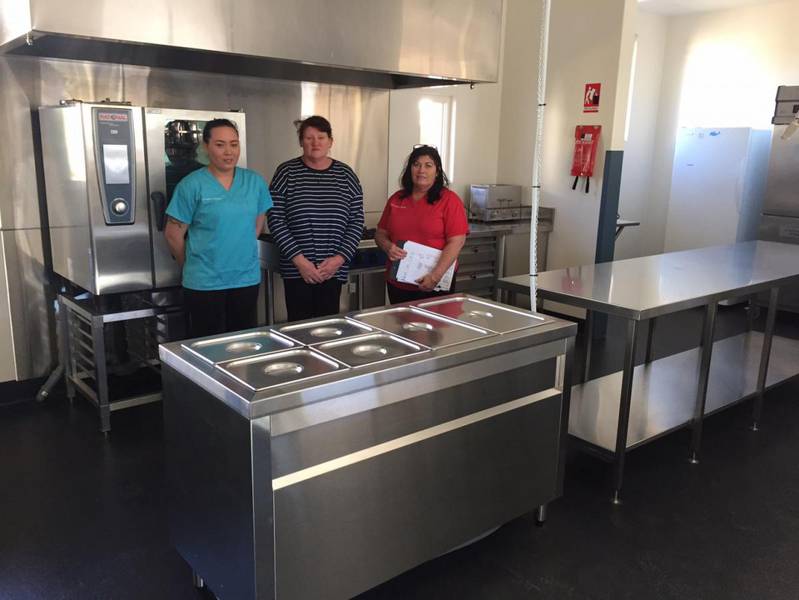 Left to right: Patient Care Assistant Jenelle Coulthard, Hotel Services Supervisor Janine Coulthard and Patient Care Assistant Shauna Doyle in the newly refurbished kitchen.
As part of the Southern Inland Health Initiative administered by the WA Country Heath Service, the Goomalling Health Service is undergoing an expansion and refurbishment.
Wheatbelt Regional Director Sean Conlan said that thanks to the Southern Inland Health Initiative's $300 million capital works project, Goomalling Health Service is just one of many hospital and health centres to be upgraded.
"Devlyn Constructions won the tender for the works which began in January 2017 and the project is expected to take around a year to complete," Mr Conlan said.
"The first two stages of the refurbishment have been completed and included a refurbishment of the kitchen, dual egress doors added to the consultation room, a refurbished communications room and repairs to a ward room and ensuite.
"The physiotherapy room has also been transformed into a temporary emergency department while the existing one is being refurbished."
In the third stage of the redevelopment, the emergency department will be refurbished. The resuscitation bay will be extended, there will be a new treatment bay and waiting room, a dedicated triage room, a new disabled toilet and new clean and dirty linen utilities. Storage will also be added for digital x-ray equipment.
"Redevelopments such as those happening throughout the Wheatbelt mean that we can continue to offer high quality care to our patients without them having to travel great distances to the city to receive treatment," Mr Conlan said.
The Southern Inland Health Initiative's $300 million capital works program is improving capital infrastructure in 37 towns across the Wheatbelt, Great Southern, Midwest and South West regions. In the Wheatbelt, Merredin, Northam and Narrogin Hospitals are being redeveloped as well as upgrades to 23 small hospitals and health centres across the region.