Telehealth changing the face of medical care for the isolated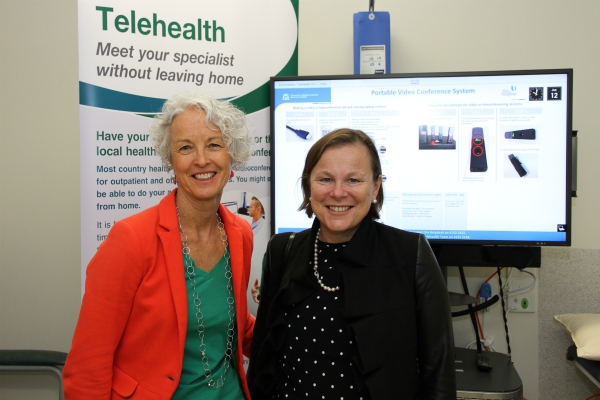 Plastics and Burn surgeon Professor Fiona Wood helps WA Country Health Service Chief Operating Officer Strategy and Reform Melissa Vernon launch Telehealth Awareness Week at Fiona Stanley Hospital.
The number of people in country WA using telehealth for medical care has trebled in the past four years, and patients' lives are being saved and radically transformed as a result.
But WA Country Health Service (WACHS) Chief Operating Officer Strategy and Reform Melissa Vernon says the number of people using videoconference consultations is still only a fraction of those who could benefit from them.
Ms Vernon said that during the first Telehealth Awareness Week June 12–16 specialists, support clinicians and patients would be encouraged to use telehealth to its potential.
"Each week about 800 regional and outer-metropolitan patients receive medical care using videoconferencing – either for emergency or outpatient services," she said.
"But with telehealth consultations available for a wide range of services in many rural and remote locations, there is huge scope for greater take-up.
"Around the world, telehealth has rapidly become the normal way for health services to be delivered to remote populations, and this has improved people's lives in many ways.
"WA is at the forefront of that charge with other countries coming here to see what we're doing, but our vast population would benefit by using it more."
Ms Vernon said that, with the quality and accessibility of videoconference technology improving at a rapid rate, people could in some cases use their own hand-held devices such as smartphones and tablets to have appointments at home.
This was especially the case for physically isolated metropolitan people and also for patients such as those undergoing palliative care in the regions.
"There are more than 720 telehealth videoconference units in hospitals and clinics around WA, which in 2016 saved patients from travelling 1.8 million kms," she said.
"Telehealth is saving a lot of outpatients time and money, and is having a significant impact on reducing the stress associated with travel and time lost at work and with family.
"Our surveys tell us that most people who use telehealth have found it as effective as a consultation in the specialist's surgery."
Telehealth Awareness Week June 12-16 is a statewide campaign initiated by WACHS and includes displays at country and metropolitan hospitals and health services, country shopping centres, shire offices and Community Resource Centres.
The week also sees the launch of a series of videos which show people how telehealth works, as well as new web-based information about telehealth and a range of brochures and posters for health services.
High-definition telehealth videoconferences allow specialist and patient to see each other clearly. The quality of vision can be good enough that even the details of a patient's wound recovery can be seen on the screen.
Plastics and Burn surgeon, Professor Fiona Wood, said that very few of her country patients had to travel to Perth to attend clinics these days, as they were usually held by telehealth.
"Sometimes I see a patient in person, to decide whether we need to operate – but usually I can see them using videoconference, and we can direct nurses in regional health centres as to how they need to dress the patient's wounds," she said.
"So we are supporting the patient – and also the local staff."
ENDS
Fact File:
• In the 2015-16, there were almost 33,500 occasions of clinical service delivered by telehealth across regional WA.
• There were more than 16,500 emergency treatments, more than 5,000 mental health appointments and almost 12,000 outpatient consultations.
• More than 30 different outpatient specialties are available to country people via telehealth, including diabetes, respiratory illness, wound and surgical follow-up, stroke and mental health.