Telehealth saves Bill money, miles - and marriage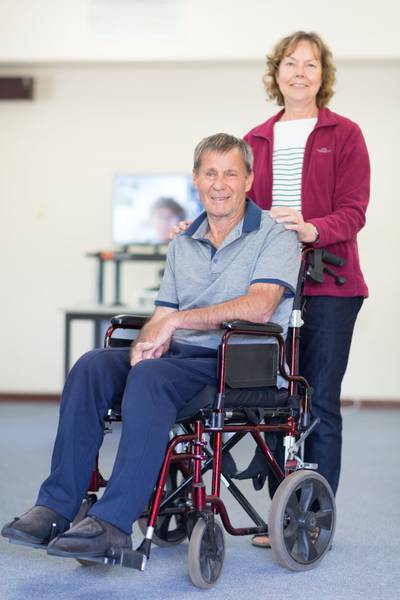 Bill and Jenny Flavel in the telehealth room at Narrogin Health Service, where they 'meet' regularly with Bill's neurosurgeon in Perth.
Bill Flavel jokes that telehealth might be keeping his marriage together.
"I have advanced MS and I'm legally blind so I meet with three Perth specialists – which means a lot of drama for my wife with driving to the city," the Narrogin resident said.
"Any time Jenny and I don't have to go near the city is great."
Bill 'meets' regularly with his neurologist at Royal Perth Hospital by telehealth from the relative comfort of nearby Narrogin Health Service.
Once, Jenny would have had to drive 200km to the city, parked and navigated them around the big hospital in Bill's manual wheelchair – his electronic chair won't fit in their sedan – to meet his specialist.
"With telehealth, we just go up to the local primary health service, hook-up on the screen and I can see my specialist and speak to her.
"I must have had eight telehealth video calls with my neurologist at RPH already, so we've saved about 3200km travelling, buying petrol and wearing out motor cars."
Bill and Jenny's story is highlighted in new telehealth promotional materials being launched during the inaugural Telehealth Awareness Week June 12–16.
The statewide campaign was initiated by the WA Country Health Service (WACHS) to raise the profile of telehealth and ensure more people benefit from it.
Telehealth works by allowing people who are isolated from their specialist or health care worker to carry out their appointment by telephone or high-quality videoconference.
"Videoconferences are just like meeting your specialist in person except you don't have to leave town – and in some cases you don't even have to leave your home," WACHS Chief Operating Officer Strategy and Reform Melissa Vernon said.
"Feedback from people who use telehealth tells us that most found it as effective as an in-person consultation and they said it saved them time and money."
Appointments by telehealth are now available for a wide range of outpatient services and at many country locations, including hospitals, health centres, Community Resource Centres and telehealth-enabled GP surgeries.
To find out more about telehealth, ask your specialist, GP or health professional or visit www.healthywa.wa.gov.au/telehealth