Top health award for unique WACHS partnership program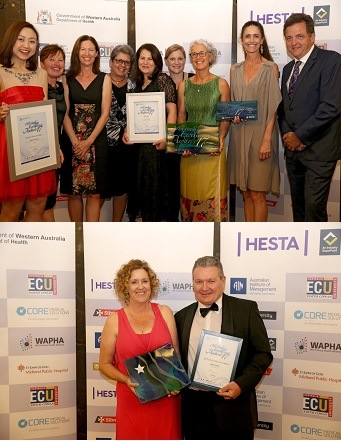 Above: Diabetes Telehealth Program team winners with Director General for Health. Below: Stephanie Waters with WACHS CEO Jeff Moffet.
An Australia-first program using telehealth to deliver diabetes education in regional WA, has taken out the Director General's Award at the 2017 WA Health Excellence Awards.
The Diabetes Telehealth Program won the 'Overcoming inequities' category and was chosen as the overall winner out of an impressive field of candidates on the night.
This is the second year in a row that WACHS has taken out the prestigious Director General's Award, with our WA Trachoma Program winning last year.
WA Department of Health Director General Dr DJ Russell-Weisz said the Diabetes Telehealth Program had improved the health outcomes and reduced the burden of travel for rural West Australians, while also using health resources more efficiently.
"Diabetes is a leading cause of potentially preventable hospitalisations in Western Australia, particularly in regional areas," Dr Russell-Weisz said.
"This Program, which is the first diabetes educator-led telehealth service in Australia, brings equitable and flexible diabetes education closer to home for rural Western Australians.
"In its first two years, the Program received more than 700 referrals, provided 1400 occasions of service and was used for professional development for nearly 920 health professionals.
"It also saved more than 113,000km in travel for consumers and 54 days of travel for diabetes educators.
"The Program has resulted in significant consumer satisfaction, decreased hospital admissions, and a halving of emergency department presentations among users.
"I congratulate the WA Country Health Service and its partners – Diabetes WA and the WA Primary Health Alliance – for this valuable initiative."
On a night which celebrated the best of WA Health and recognised some of the outstanding people and services within, WACHS once again shone.
Not only did the organisation win the coveted Director General's award, but also scooped two individual awards and had three category winners out of nine WACHS finalists.
One of WACHS's most respected senior clinicians, Dr Di Mohen, was awarded the Minister's Award for Outstanding Commitment to a Healthier Western Australia – a title she shared with joint recipient Dr Dan O'Donnell.
And Telestroke Program Manager Stephanie Waters was awarded the Jill Porteous Memorial Award for Quality and Safety for her role in developing stroke pathways between rural and metropolitan hospitals.
The WACHS category winners were:
Project: Diabetes telehealth
Category: Overcoming inequities
Team: Strategy and Reform, Better Health Improvement Program (BeHiP) – WA Country Health Service
Project: Kalgoorlie meningococcal W outbreak response
Category: Preventing illness and injury and keeping the community healthy
Team: Population Health, Goldfields Population Health Unit, WA Country Health Service and Communicable Disease Directorate and Disaster Preparedness and Management Unit, Public Health and Aboriginal Health Division – Department of Health
Project: Health navigator service for chronic conditions
Category: Developing sustainable solutions for out-of-hospital healthcare
Team: Strategy and Reform, Southern Inland Health Initiative – WA Country Health Service and Silver Chain
And the very worthy WACHS finalists were:
Project: Aboriginal Mental Health Program
Category: Achieving better health outcomes for Aboriginal people
Team: Aboriginal Mental Health Program, Mental Health, WACHS
Project: Improving procurement and contract management
Category: Managing resources efficiently and effectively
Team: Procurement and Contract Management, Operations, WACHS
Project: Patient Opinion through online technology
Category: Engaging with consumers, carers and the community
Team: Strategy and Reform, WACHS
Project: Welcome to the MK Nation
Category: Achieving better health outcomes for Aboriginal people
Team: Midwest Population Health, Public Health, WACHS
Project: GP – Medication Access Program (GP-MAP)
Category: Overcoming inequities
Team: Goldfields Public Health Team, Population Health, WACHS
Project: Acute TeleStroke rapid response
Category: Workforce initiatives to improve service delivery
Team: SIHI, Strategy and Reform, WACHS and Clinical Telehealth Stream, FSH, SMHS
Congratulations to all the winners and finalists from WACHS, our success is testament to the great work taking place across health in country WA.