Unique design for Karratha hospital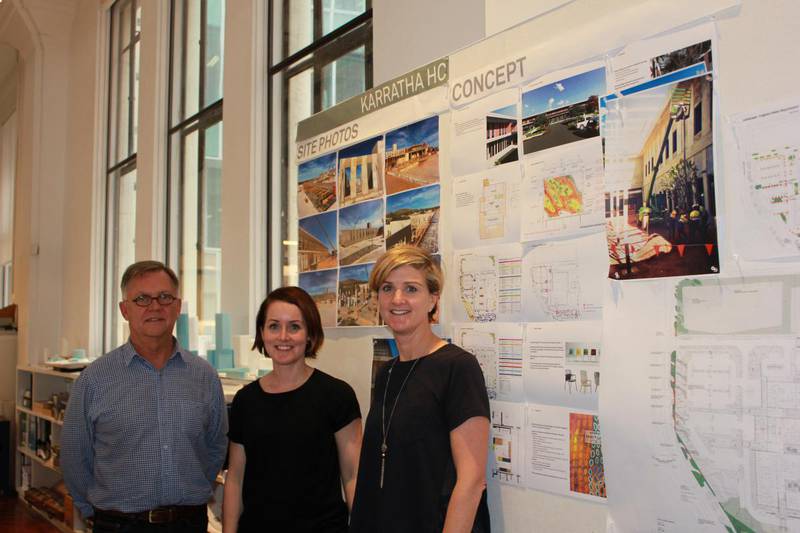 L-R Architects Jeff Menkens, Natalie Busch and Toni Neck worked on the design for the new Karratha Health Campus
The $207.15 million Karratha Health Campus will be the biggest investment in a public hospital ever undertaken in regional WA.
WA Country Health Service Pilbara, Regional Director Margi Faulkner, said it is an exciting and complex project which has already attracted a lot of local attention.
"We wanted to design a hospital that allows people to heal in an environment that is comforting and reduces stress and I think we have achieved that," she said.
"Health facilities attract a lot of attention and involve a high level of collaboration to ensure the design is affordable, sustainable and with flexibility to adapt to change over a 30–50 year life cycle."
Situated in remote Pilbara and facing extreme weather conditions, the hospital design was a unique challenge for the HASSELL design team working on the impressive building.
"We wanted the community to engage with this hospital – that was at the forefront of what we have done," explained architect Toni Neck.
"When designing Karratha Health Campus, we wanted to create a place where people feel comfortable as well as making it part of the landscape and the city."
Toni, along with fellow architect Jeff Menkens and landscape architect Natalie Busch, have more than 60 years' healthcare design experience between them, but still encountered many unique build elements.
"Hospitals differ significantly from other building projects and this was no exception," said Jeff.
"The remoteness of the site and the extreme environmental conditions had an effect on the materials and the colours that were used.
"Corrosion is also a key factor being on the coastline, as are extremes of both rainfall and temperature."
The unique environment required an equally unique design approach, with the team of architects more than happy to rise to the challenge.
Massive concrete panels were built on site, the heaviest measuring over 10 metres and weighing 32 tonnes, allowing the entire hospital façade to be delivered by local contractor Dynamite Construction.
Bespoke windows – more than five times the thickness of normal house glass – were designed and tested to ensure they could withstand the extreme conditions undergoing wind and debris impact tests.
Landscape areas play a crucial role in a patient's physical and mental recovery and three major courtyards are at the heart of the design which brings nature into the centre of the hospital.
"Functionality and design must go hand in hand," said Natalie. "Hospitals can be very scary places for some people, so we wanted to create a soothing environment by combining architecture with nature.
"The landscape team has worked on a number of health projects so we were able to bring to the project a real understanding of healthcare, patient care, staff and visitor experiences," she said.
The courtyards introduce natural light and an opportunity for fresh air for people as well as helping to orientate around the hospital with external façade colours matching internal accents.
Under the State Government's per cent for art program, a number of public artworks will also adorn the new campus providing a visual narrative, encouraging wayfinding and creating a calming atmosphere.
Public art not only improves public spaces, but also creates a sense of cultural and community identity which, in turn, helps to alleviate stress and assist patients and families in the healing process.
The Karratha Health Campus is being built by Brookfield Multiplex Cooper and Oxley JV and has been made possible with a $206.5 million investment by the State Government's Royalties for Regions program through the Pilbara Development Commission and $650,000 from the resources sector through the Pilbara Health Initiative.