Works progressing at Northam Health Service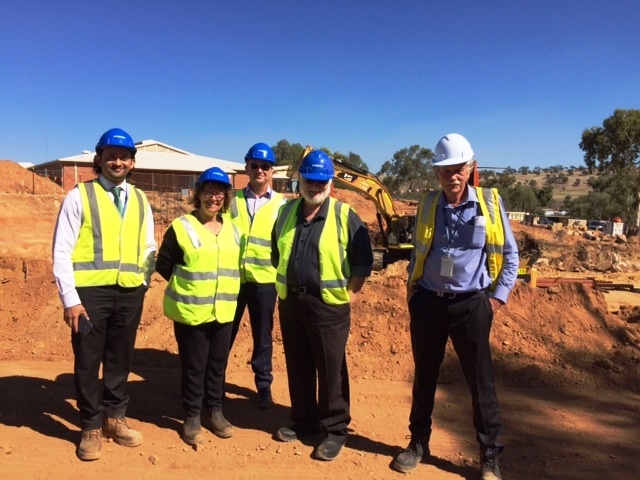 WACHS staff members visit the Northam Health Service construction site. From left to right are: Primary Health Manager Avon and Central Wheatbelt Alistair Pinto, Manager Clinical Services Jennifer Lee, Operations Manager Trenton Greive, Chief Operating Officer Operations Shane Matthews and Senior Project Manager Infrastructure and Planning, Graeme Leverington.
The $42 million redevelopment of Northam Health Service began at the start of this year and construction works are progressing well.
WA Country Health Service Wheatbelt Regional Director Sean Conlan said investment in health facilities in regional areas was important and helped residents to receive treatment closer to home.
"Upgrades will include a refurbished and expanded emergency department, a modified ambulance bay, expanded surgical and sterilising departments and new renal services," Mr Conlan said.
"Other additions and improvements include expansions to chemotherapy services and the inpatient unit, a new hospital entrance, specialist consulting rooms, an upgraded kitchen and a new centre for child health, mental health and occupational therapy services."
Construction work has started on pouring the concrete ground slab, structural steel work, in-ground services, stormwater drainage and retaining walls. Work has been completed on the upgraded supply area and the rear carpark and road works.
A temporary kitchen and meeting rooms have been installed allowing work to commence on the kitchen refurbishment and the expansion of the surgical department.
The Northam Health Service redevelopment is part of the Southern Inland Health Initiative's $300 million capital works program to improve capital infrastructure in 37 towns across the Wheatbelt, Great Southern, Midwest and South West regions. In the Wheatbelt, Merredin, Northam and Narrogin Hospitals are being redeveloped as well as upgrades to 23 small hospitals and health centres across the region