Another HEAL grad kicking health goals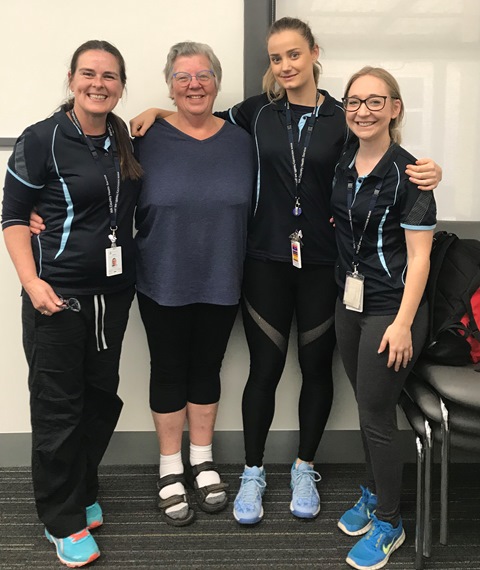 Marilyn Welch pictured with the HEAL team (L-R) Robyn Flett Allied Health Assistant, Ellen Smith Health Promotion Officer and Meagan Chegwidden Dietitian.
Williams resident Marilyn Welch is brimming with pride and confidence after becoming another successful graduate of WA Country Health Service's HEAL (Healthy Eating Activity and Lifestyle) program run by the Southern Wheatbelt Primary Health Service in Narrogin.
HEAL is an eight week program that helps participants develop lifelong, healthy lifestyle habits. The classes incorporate gentle exercise and education for adults who are looking to manage their weight, type 2 diabetes or heart disease risk factors.
Mrs Welch has nothing but praise for the HEAL program and is grateful for the opportunity to complete the course which she said had improved her self-esteem as a result of an overall health improvement.
"The HEAL program was excellent and the staff who ran it were inspiring with their friendly and encouraging approach," said Mrs Welch.
"The staff made the content fun and simple so I found it was easy to continue with the exercises at home."
Since the HEAL program has been running in the Wheatbelt over the last two years, 100% of participants who completed the program reported improved health measures.
Health Promotion Officer for the Southern Wheatbelt Primary Health Service Ellen Smith said the HEAL team were delighted to see how much participants, like Mrs Welch, were benefiting from the program.
"The fact our participants are part of a supportive group is key to helping them achieve their goals, because it encourages them to share ideas and ask questions," she said.
"We also help our participants focus on achieving long term change, which is another winning aspect of this program."
Participants remain connected with the program at the end of the course as a result of follow up health checks, in order to track and monitor their progress. These check-ups are done five and 12 months after completion of the program.
"Our course is tailored to suit the needs and health conditions of our participants and it's empowering because it teaches them how to self-manage their health and wellbeing," said Ms Smith.
To find out more about the HEAL program contact the Southern Wheatbelt Primary Health Service in Narrogin on 9881 0385.