Baby Louis' safe arrival timed to perfection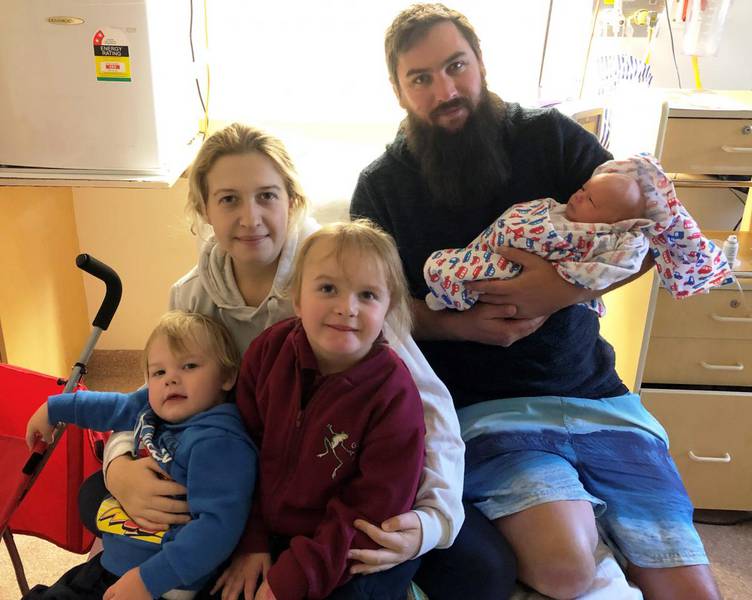 Mum Ellie Cook pictured with her baby Louis, partner and two older children.
Eaton resident Ellie Cook became the first Mum to give birth with WA Country Health Service on International day of the Midwife last week.
Miss Cook said she enjoyed her experience with Bunbury Midwifery Group Practice (MGP) team and felt well supported throughout her pregnancy particularly when she encountered complications close to full term.
Miss Cook said she wasn't aware it was International Midwives Day when she delivered her baby Louis but she was pleased to be part of the special occasion.
Miss Cook expressed her thanks to all of the MGP staff and Bunbury regional midwives she met during her pregnancy who she said were all caring and offered her the 'best support I could have asked for'.
"I really could not have asked for a better before and aftercare experience and I would recommend the MGP to all expecting parents," said Miss Cook.
The Bunbury MGP won the Excellence in Person Centred Care – Team award at the prestigious WA Nursing and Midwifery Excellence Awards (WANMEA) on Saturday evening.
WACHS South West Regional Director Kerry Winsor said the award recognised the outstanding work done by the MGP in caring for and supporting expecting families and safely birthing over 600 babies in collaboration with the Bunbury maternity service since they formed six years ago.
"The Bunbury Midwifery Group Practice has provided leadership in WA with midwifery care.
Mrs Winsor said the award win highlights how the Bunbury MGP provides an exceptional model and example for the other MGPs currently being developed in the South West at Busselton, Collie, Manjimup and Bridgetown.
"I know this team goes above and beyond to give exceptional service to the woman and families they care for based on the positive feedback and compliments they receive from so many of their clients such as Miss Cook," said Mrs Winsor.