Baby boom for Bunbury midwives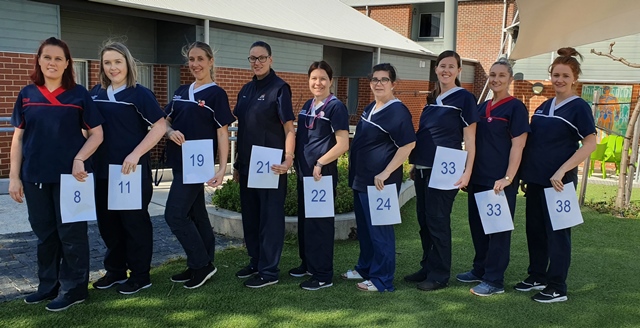 L-R Jackie Wells, Sophie McCreddon, Renae Binet, Tara Iley, Lukah Aris, Emma Stephens-Black, Catherine Hemsley, Chloe Ducas and Courtney Catalano. Midwife Tiffany Haddon is not pictured.
A record number of midwives will soon be swapping roles as part of a baby boom at Bunbury Health Campus.
Clinical Midwifery Manager at the hospital, Katrina Jones said there are presently 10 pregnant midwives on staff in the maternity ward.
Ms Jones said all her staff are excited about the forthcoming arrivals which have helped forge a supportive environment for the women.
"Given the highly regarded positive birth education programs we run at Bunbury Hospital, I have no doubt these staff will be practicing what they preach," Ms Jones said.
"Everyone has been enjoying the regular afternoon teas as they head off on maternity leave.
"We wish each of them and their partners the very best for a safe birth, and we look forward to meeting their beautiful babies," she added.
Ms Jones also reassured the community that staff rosters would be fully covered during periods of leave.
"Our team is very experienced in covering peak periods, particularly given September is traditionally our busiest time of the year," Ms Jones said.