Birth suites revamp wins praise thanks to an intergenerational team effort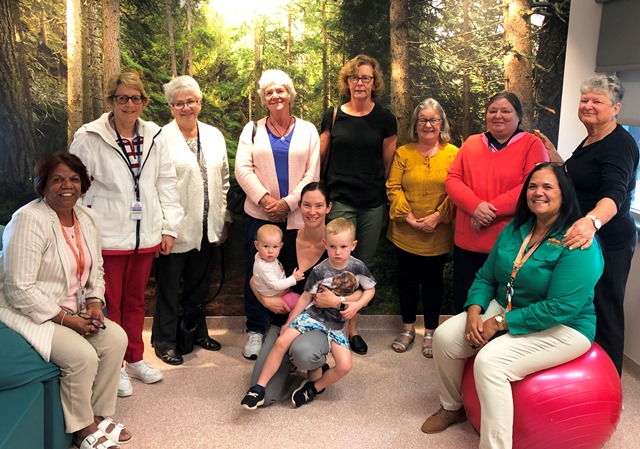 Members of the Comfort Fund committee and consumers involved in bringing the revamp of the birthsuites to reality.
Three birth suites at Bunbury Hospital have been given a stunning makeover and are creating a buzz thanks to an intergenerational team effort.
The young Mums, who gave input on the revamp, and the Comfort Fund volunteers who funded the project were full of praise when they met up today to inspect the end result.
Clinical Midwifery Manager Katrina Jones said she was absolutely delighted with the revamped suites and overwhelmed with positive feedback from women and their partners who have used the rooms to birth.
"One year ago this group of young Mums were invited to provide advice on how they could be improved. "Their brief was to bring 'anything and everything to the table' outside of knocking down walls" said Mrs Jones.
"After I had their 'wish list' of improvements approved and costed I presented the plan to the Comfort Fund committee, a wonderful team of volunteers who raise funds from running the snack shop in the Hospital.
"They provided $13,000 towards the cost of the refurbishment, purchasing some much needed comfort equipment which is used to support the woman during their labour and birth.
"Our Comfort Fund members have shown they care about our new families in this most lovely of ways."
These new birth suites have been designed to be culturally appropriate featuring murals on the main walls, calming colours, positive affirmations and supportive equipment such as aromatherapy diffusers, electric candles, beanbags, couches and microwaves.
The changes are all designed to ensure that the woman (using the rooms) and her support members are calm and relaxed in the environment.
"By removing the 'clinical' feel from the room and to bring the home environment into the hospital, we aim to support and encourage the women through their labour to have a positive birth experience," said Mrs Jones.