Bunbury chronic conditions program wins recognition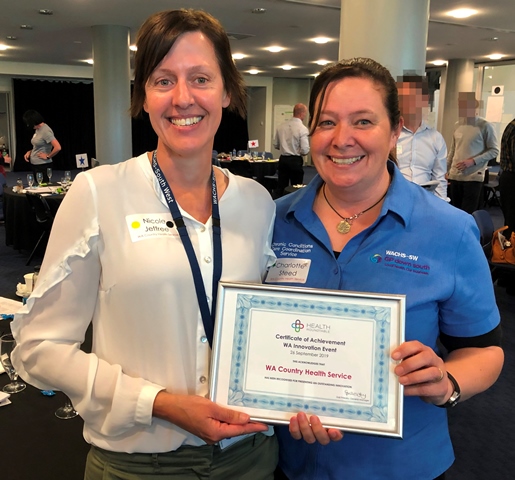 Nicole Jeffree, Senior Project officer (left) and Charlotte Steed, A/Chronic Conditions Care Coordinator from Bunbury Hospital receiving their WA Innovation award.
A Bunbury Health Campus program that is helping patients with chronic conditions to remain healthier and avoid the need to visit hospital has won recognition for achieving excellent outcomes.
The Chronic Conditions Care Service takes an innovative and proactive approach in caring for anyone with chronic heart failure or chronic obstructive pulmonary disease.
Last year the program resulted in a 30 per cent reduction in emergency department presentations for patients with these conditions and an 11 per cent cut in their hospital stay when they were admitted.
Having recently taken out the innovation award at the WA Health Roundtable, the program gained similar kudos at the Australian College Health Service Management Australasian conference and has since been shortlisted for a WA Health Excellence Award.
WA Country Health Service (WACHS) South West Director of Population Health Jo Moore said while it was excellent to see the project attracting recognition, patients in Bunbury who live with a chronic condition were the real winners.
"This program is helping residents of Bunbury to remain healthier and out of hospital," she said.
Charlotte Steed, A/Chronic Conditions Care Coordinator said the program involved following up with patients in their own home to check they are monitoring their symptoms.
"This is a fantastic program that educates and empowers our patients," Ms Steed said.
"It highlights that our care for patients does not end when they're discharged from hospital," she added.
This South West success story will be shared with a broader audience in March 2020 when Ms Steed and her colleague present to the National Health Roundtable in Melbourne.
The program was developed in partnership with WA Primary Health Alliance, GP Down South and the South West Aboriginal Medical Service.
For further information about the chronic conditions program contact the Chronic Conditions Team on 9722 1408.